As I mentioned yesterday, I was ahead of the game in planning tonight's dinner. It's always nice when the planets align and afford you the luxury to be able to plan ahead – I'll take it when I can!
To use up some chicken we had, I made Indonesian Chicken as our main course. As a starter, I made another favorite tried-and-true, Sweetnicks Beer Cheddar Soup. It's a recipe I've been tweaking over the years; I finally got it right to where I want it. It's quick and simple to put together, and produces a wonderful, hearty tummy-warming soup. As a side, The Husband had leftover Good Rice from Thursday. And for my side, I used up the rest of the carrots I had on hand and roasted them. I love roasted vegetables, and carrots are no exception. They could not be simpler to make … just take a cookie sheet and put a single layer of carrots (baby carrots whole or full-size carrots cut into thirds or so), drizzle with extra virgin olive oil and sprinkle with a bit of salt and pepper. Throw it in the oven at about 400 for roughly 30 minutes. Done. I put them in when I started the soup, so by the time I'm done, so are they. The roasting brings out a wonderful sweetness – delish.
And tonight's dinner was perfect in keeping with my ongoing personal pantry challenge, using ingredients I already had on hand; no trip to the grocery store needed, wonderful! It's kind of interesting to see how far your kitchen can take you without having to run to the store.

Sweetnicks' Cheddar Beer Soup
Indonesian Chicken and Roasted Carrots
Another ARF/5-A-Day round-up is here, and we have a lot of entries this week, including a few newcomers, so load up your printer – I am sure you'll find something you like.
A year ago today … I missed a day of blogging (gasp!), and have no idea what I did. ;)
First up is a newcomer from my home state of New Jersey. Cooking Within My Grasp starts us off with a nice bowl of Borscht:

Susan from Fat Free Vegan in the Deep South shares her African Pineapple Peanut Stew (say THAT three times fast!):

Next we have The Cookbook Junkie from Pennsylvania, with her Broccoli Slaw:

Salt and Pepper shares Cabbage Thoran. Never heard of this before, but can't wait to try it.

Heather from Eating for One in Kansas serves up her recipe for Chicken and Potato Taco – a great new take on a traditional favorite.

Cucina Bella in Connecticut cooks up a savory, yet sweet, Tropical Fried Rice:

The new celebrity-in-our midst ;), Kalyn brings us Bok Choy with Soy Sauce and Butter:

With a new twist on carrots, Alanna from A Veggie Venture in Missouri and her Carrot Juice Carrots:

My Dad and Nicholas love hot dogs, so I know they're going to love this Southern Franks Dinner from Cyndi Cooks in California:

Food for Thought in Illinois returns to ARF/5-A-Day with an uber-healthy Sprouts Pilaf:

Pat from Up a Creek without a PatL in New England shares a divine looking Gingered Carrot Soup:

I'm sensing a cabbage theme tonight, with Food, In the Main in the UK picking up the baton with her Green Cabbage and Peas: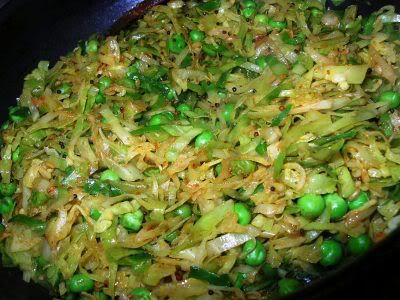 Jennifer from Weekly Dish and her Pimp'd Out Sweet Potatoes:

In an effort to stave off more dish-kidnapping from me, Alysha from The Savory Notebook quickly sent in her Zucchini Pecan Saute:

Chef Michele from Arizona and Susan from Fat Free Vegan must have been channeling the same cooking gods. Here's Michele's African Chicken Stew:

The Kitchen Mate from Pennsylvania with her Vegetables Cooked in Coconut Masala:

Sugar, Spice and Everything Nice brings a new chutney for us, Bengali Plum Chutney. I've made tomato ones, but never one with plum – sounds great!

Check out the gorgeous salad from Smorgasbord in Japan:

A brand new blogger, Cooking Medley, has a delicious Mexican feast waiting for us:

Stacey from Just Braise in New York goes coconut crazy, serving it up several ways, Chicken Masala, Coconut Banana Bread with Lime Glaze:

Another newcomer … Saffron Hut has been doing some Tomato Pickles canning. Never heard of them before, but will definitely be trying the recipe:

Check out The Chocolate Lady's site to see what she's doing with carrots.
And lastly, The Spice is Right cooks up some Grape Nuts Date Bread:


Whew! You guys did great! Last week, we were down to a first-time low of 15 and I had to resort to kidnapping a few more participants. This week, you pulled out all the stops and 24 of you joined in. Lots of cabbage and stews and terrific inspiration. Until tomorrow…
P.S. If I missed anyone (and I have the sneaking suspicion I missed 1), just shoot me an e-mail and I'll get you added. :)
Hot Health Hint… Fruit has valuable fiber and numerous nutrients, but it leaves you short on magnesium, a nutrient that can ease the symptoms of depression ?- which include having a super-short fuse. To get the most bang for your bite, add almonds, soy milk or cereals such as Whole Grain Total, all rich in magnesium.