My parents are away for a few days and we have their greyhound, Beauregard, for safekeeping. Nicholas has taken his babysitting job very seriously, reading Beau stories before bedtime, watching Barney with him and covering him up with a blanket when he thinks he's cold. Beau has never had it so good – I thought my parents spoiled him. They've got nothing on Nicholas! When my mom said that Nicholas would earn babysitting money for his "swingset jar," he was beyond thrilled. When he lets Beau out in the backyard, I heard him telling him, "It's ok, Beau. If you don't have to go to the bathroom, it's ok, don't worry." Tonight he thought Beau was moping because he missed my parents and carefully counted down the days for him until they would be back. Too cute.

Not feeling well today, and The Husband is out of town, so I ended up not cooking tonight (luckily there were leftovers for Nicholas). Fortunately, The Neighbor has the same symptoms as me, for the same time period, so I think we've safely traced it back to food over the weekend. Now if it would just go away…
In the meantime, since I didn't cook, I'll share the recipe I was PLANNING on making for tonight's ARF/5-A-Day Tuesday event. As soon as I saw Dave Lieberman make this Frittata over the weekend, I knew it would be perfect for tonight. The episode was a $10 Meal for Four – not bad, huh? Hopefully I'll be up to making it tomorrow night.
Mushroom and Cheddar Fritatta and Arugula Side Salad
Yield: 8 servings
3 tablespoons vegetable oil
1 (10-ounce) package mushrooms, chopped
Salt and freshly ground black pepper
1 medium onion, chopped
8 eggs
4 egg whites
1 cup grated sharp Cheddar
Arugula Salad, recipe follows
Preheat the broiler and set the rack about 4 to 5 inches from the heat source. Heat oil in large ovenproof nonstick skillet over medium-high heat. Saute mushrooms until browned, seasoning with salt and pepper. Add onion and saute until tender.
Whisk eggs, egg whites, salt, and pepper in a medium bowl. Pour over vegetables in skillet and mix gently. Reduce heat to medium-low, cover skillet, and cook until eggs are set around edges, about 4 to 5 minutes. Sprinkle with cheese and then place skillet under broiler and cook until cheese is melted and just browned, about 2 minutes. Let frittata stand 1 minute before cutting into 8 wedges. Serve with salad on the side.
Arugula Salad:
1 large bunch arugula leaves, washed and dried
1/4 cup olive oil
1 lemon, juiced
10 grinds black pepper
Couple pinches salt
Combine all ingredients in a large bowl. Toss to coat leaves with dressing and serve with the frittata.
On with the show…
The Cookbook Junkie from Pennsylvania shared her Barbecued-Pork Burritos with Chopped Salad:

Susan from the Fat-Free Vegan Kitchen in Mississippi serves up a gorgeous looking Bean Sprouts and Broccoli Slaw Salad with Coconut-Ginger Dressing:

Kalyn from Kalyn's Kitchen in Utah mixes up a colorful Asian Spinach Salad:

Alanna from A Veggie Venture in Missouri with a new take on cabbage with her Caraway Cabbage:

It's veggie overload at Food, In the Main from the UK with Stir-Fried Veggies in Plum Sauce: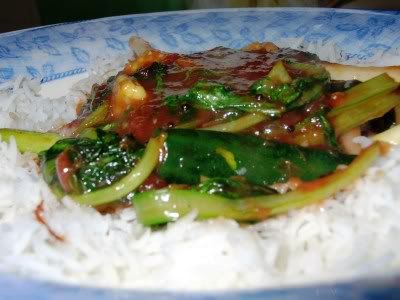 And now with ARF-overload, Chef Michele dishes up Soul Food with her Pinto Beans and Collard Greens – Yum!

Veggies and pasta are a winning combination, and Cooking Medley does it with her Penne with Creamy Veggie Sauce:

Sugar, Spice and Everything Nice in California shares a beautifully plated Sweet Corn Yogurt/Dip:

The Chocolate Lady in New York blesses us with beautiful photographs once again, this time it's Baby Bok Choy with Mushrooms:

Oven Roasted Tomato Sauce comes by way of Weekly Dish:

Erin's Kitchen from California beckons summer with her Very Berry Smoothie – Nicholas will love this!

A new contributor, Blog from Our Kitchen from Canada jumps in feet first with two contributions that look fantastic, Sweet Potato Cornbread and Spinach Pizza. (For some reason, I can't get these pictures to load, so please make sure to check out her site.)
Karina from Recipes from a [Gluten Free] Goddess shares beautiful photography and a veggie goodness with her Purple Cabbage and Sweet Potato Soup: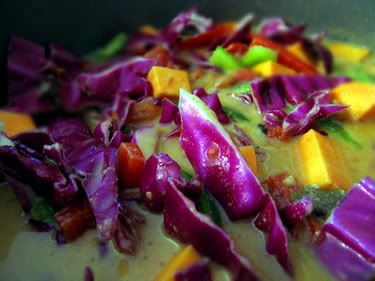 Cooking Within My Grasp in New Jersey shares what she cooks up with broccoflower:

Another new contributor joins in, Sugar and Spice and Eveything Nice brings her Rajma Pilaf to the table – it looks delicious and so simple to make:

KitchenMate in Pennsylvania and her Chicken Soup with Vegetables:

Phew – we made it! Another great round-up and lots of inspiration. My "to try" pile grows every week. OK folks, all for tonight. Until tomorrow…
Hot Health Hint: This week's HHH comes by way of Farmgirl Fare. She generously sent in this link that we can all reap rewards from. Enjoy!
A year ago today… it was Irish Soda Bread.