A perfectly lazy Sunday today … lots of relaxing with a little bit of productivity and cooking thrown in for good measure. Let's start with breakfast.
When Stephanie announced that the theme for her Blog Party 8 was Brunch, I promised to join in, especially since I've missed, ahem, a few of her other Blog Parties.
I made something very simple, but perfect for Brunch, Fruit Salad. I first served this in November 2004 (yup, I'm a geek like that and make notes) for a Brunch with my family. Healthy, fresh and very easy to make, you can definitely play with the fruit ingredients, depending on your likes, what's in season, etc. It's a Sweetnicks Original – hope you like it.
For dinner tonight, we stuck to Tried-and-Trues, but these are all new to you, since I haven't written about them before. Pre-dinner munchies came by way of a Clam Dip with Fritos. Yes, Fritos. This recipe originally appeared in Gourmet Magazine in 2002. The light creaminess of the dip goes really well with the Fritos (THEIR serving suggestion, I promise).
Salad tonight was Grandma's Secret Salad, and, no, not my Grandma. We've been making this for a few years now; the first time, I was intrigued by a unique ingredient in the dressing (A1 Steak Sauce) and the cute recipe notes (see below) which I follow explicitly. This was the first time Nicholas has had this one, and he kept coming back for more, even requesting it for lunch tomorrow.


Next up, the main course. A ridiculously simple hearty dish to make, this one comes from a caterer. It takes literally minutes to throw together, and then bakes in the oven for 2-1/2 hours. It's called No Peek Casserole for good reason – stay out of the oven. ;) Serve over noodles or rice, and you're all set. I can almost guarantee you'll like this one … creamy and rich, without being too much so. And if you don't tell them, they'll never know they ate mushrooms. Shhhh…
The Neighbor took the reins for dessert, and made one of The Husband's favorites, Mini Cherry Cheesecakes. Yum. I'm so stuffed I couldn't manage even one, but that didn't stop The Husband. But then again, he's got that crazy, not-fair metabolism that he can devour three without nary a second thought.
And lastly, for Treats to Work Monday, I made a brand spankin' new recipe, Caramel Poundcake, originally from Southern Living. Usually I'm not a big poundcake fan, but I would definitely make this one again … dense, but very moist. The only change would be to halve the glaze ingredients next time.

Before we move on to Weekend Dog Blogging, just a reminder that tomorrow is the deadline for this week's edition of Virtual Recipe Club, the brainchild of Alysha atThe Savory Notebook. The theme is Cinnamon – hope to see your contribution! :)
A year ago today … we had two deliciously divine types of quesadillas. Intrigued? The recipes are there waiting for you.
P.S. All recipes from tonight will be up tomorrow.
This weekend's edition of Weekend Dog Blogging starts off with a newcomer, Miss Ethel Mae from Mumbo Jumbo. Adorable!

Sadie from The Moveable Feasts Food Blog in Virginia begs for a belly rub:

Ziggy from Soul Fusion Kitchen in California is having a ball … ;)

Another pup looking for a belly rub, it's Sophie from You Gonna Eat All That? in Virginia:

Simba from Up a Creek without a PatL in New England watches and waits:

It's playtime over at Dispensing Happiness' place in Tennessee. Check out her site for even more puppy playfulness:

Scrappy enjoys a homemade treat from Cucina Bella in Connecticut:

Meeso from Blue Tape enjoys a romp:

Gotta like a dog who loves his veggies! It's Willie from Eating for One in Kansas:

Why Travel to France shares a picture of a sleeping dog at a street sale:

Buddy from RobWonton in sunny California is having a grand 'ol time:

Looking quite serene and content, it's Lucky Buddy Bear from Farmgirl Fare in Missouri:

Great shot of Thor and Trouble (love the name!) from KitchenMage:

Napoleon tending to the pigs over at Sugar Mountain Farm in Vermont: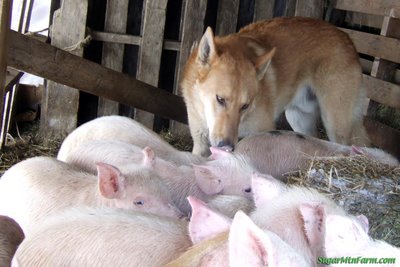 And last, but not least, our very own Eli, getting a big hug from his permanent sidekick: