First up, my exciting news… earlier this month, I wrote a review on the book Being Martha
for the Very Good Things site, which you can read here. So last night, when I was working on my post, I got an email from the author, Lloyd Allen, thanking me for the positive review. How cool is that? For those that didn't get a chance to read my review (whatcha waiting for?), he's not just any author writing a book about Martha. He's a longtime friend and former neighbor. I was truly honored to hear from him and we chatted back and forth for a little while. Turns out he's going to be doing a book signing soon in South Jersey, and I'm planning on stopping by. Totally made my night, and it was all I could do to stop myself from waking up The Husband!
Onto today's party. I had never heard of Tastefully Simple until The Neighbor mentioned that she booked us to have a party. You know the stuff has to be easy to make when The Neighbor did most of the prep work for today … it was right up her alley, and if there's something more basic than Sandra Lee (gasp!), this would be it. In no time flat, she had put together 5 dips and a cheese ball. They sell quite a variety of items, and they're pretty versatile. For example, the seasoning used to make the dips can also be used for things like grilled chicken, fish, etc. The powder in the Chai Tea was used today, mixed with Cool Whip, to top a cake. It won't refine my kitchen (I'm not really their target audience), but I definitely got hooked on the Sea Salt and Pepper Crisps and a bag is winging its way to me.
Next … my entries for Weekend Cat Blogging #40, hosted by the lovely Clare at Eat Stuff. First up, Sugar. She loves to sit on the windowsill and look outside. Every time I lean over the curtain rod to get her picture, she takes a swing at me, so I have to be quick!

Next is the beautiful Callie, with an expression that says, "Yup, I know I'm pretty:"

And lastly, the very handsome Lord Nelson, The Sister and Brother-in-Law's cat:

I have another article up at Paper Palate, Window Cooking, which you can check out here. And also check out The Unemployed Cook's site for a Sweetnicks Shout-Out and a recap of one of our favorite recipes.
On to Weekend Dog Blogging, the handsome Stiva rejoins us once again from The ReMARKable Palate in New York:

The trio from RobWonton in California sit for a spell on a totally cool, modern bench:

The adorably happy Peanut from Speculative Musing in Texas:

The young Willie from Eating for One in Kansas:

Ziggy from Soul Fusion Kitchen in California shows the bone who's boss:

Let sleeping dogs lie … another trio checks in, this time it's the bunch from Dispensing Happiness in Tennessee:

A happy pair stops by from Why Travel to France:

Princess Zoe kindly bestows a picture upon us from her Is It EDible? castle in California. A fun fairytale accompanies her post:

Ed from The Moveable Feast Food Blog in Virginia … heeeeeeelp!!

Our THIRD trio stops by. This time it's the group from Forest Walks in the UK. Check out their site for even more adorableness:

Welcome newcomer Tsuki from Tomato! in Melbourne. Given she's been caught in the act of eating fresh basil, I think she's going to need our support. ;)

Kavi, from Sugar Mountain Farm in Vermont, settles in for a snooze: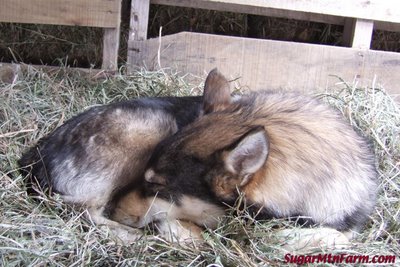 Another pair of newcomers, it's the duo from La Mia Cucina:

Check out the youngster, Piggy, from Something So Clever in Montana:

Simba from Up a Creek Without a PatL enjoys the wintery weather in New England:

And in a great two 'fer one deal, newcomers Roxie and Smokie join in the fun from See. Sip. Taste. Hear. joins us from Tennessee:

Taking the phrase "a roll in the hay" to new meaning, it's Lucky Buddy Bear from
Farmgirl Fare in Missouri:

And last, but certainly not least, our very own Eli. I have yet to catch him actually getting ON the bed, but I've been trying to because it's hard to picture his 105 lb pound wriggling through the little bit of space at the end of the bed rail, but he sure manages:

Whew! I think that's everyone… OK folks, until tomorrow, have a fantastic evening.
P.S. OK, just one word … ewwww!
A year ago today … it was love at first bite.