Wasn't sure I was going to get this post up for you guys — Blogger seems to be having some issues today.
I did well for my own participation in ARF/5-A-Day today, making two new recipes that featured veggie goodness. The first one was Martita's Awesome Asparagus. This was a recipe featured in a recent issue of Quick and Simple magazine, and it was delicious. The recipe comes from a woman (Martita) who lost 80 pounds in 10 months, and this was one of her favorite dishes. Usually when I make asparagus, I just drizzle some balsamic vinegar, extra virgin olive oil, salt and pepper over it and roast it for a bit. This is a great twist and one recipe I'll definitely be repeating.


Viewers of Food Network's show, The Next Food Network Star, might recognize the next new recipe I made tonight, Waka Waka Salad, made by Guy Fieri. I remember after he presented it to the judges and left the stage, one of the judges mentioned that he couldn't wait to finish polishing off the rest of the salad. Between that kind of feedback, and the fun name, I knew I wanted to try it. I used preshredded cabbage and carrots to make the prep time even shorter. It is certainly colorful, healthy and a snap to make. I really liked the addition of the Spanish peanuts on top, and will definitely make this one again too. Be warned though, it makes quite a bit.

Lastly, when Nicholas and I were quickly running through the grocery store this afternoon, we spied these Havana mini Cuban sandwiches — delicious stuff! I baked up the whole box, figuring I'd have leftovers for lunch tomorrow, but they were gobbled up too fast for that!
OK, enough about me, on with your round-up.
They say, "life's uncertain, eat dessert first," and Stacey from Just Braise in New York is on the right path with her Strawberry Tart. Given Nicholas' penchant for strawberries (I swear the kid could live on them and them alone), we will definitely be giving this one a whirl:

In what I do believe is the first entry to feature fava beans ever here, Jennifer from Weekly Dish celebrates the Spring season with her String Bean Pasta:

Indian food makes its first appearance this week with Cooking Medley's Spinach Curry with Chapathi Chips – looks divine!

Faith from Blog Appetit shares her Polenta-Mushroom Bites… I've never had or made polenta before, but with a mushroom filling, I just may venture out and test the waters.

A new participant this week, see what lovely dish Happy Burp from Germany made with these fine veggies:

Our next Germany participant, What's for Lunch Honey?, offers up a very satisfying recipe with her Tuna Tacos:

28 Cooks gives us a unique twist on hummus with her Moroccan Carrot Hummus version:

Food, In the Main from the UK is up next with her Black-Eyed Beans in Tomato-Yogurt Sauce – sounds divine!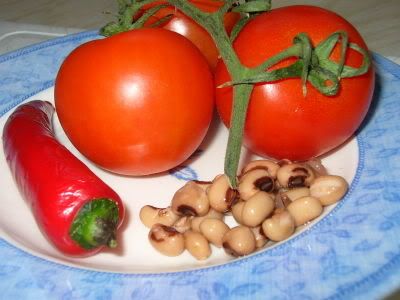 Veggies and Spring abounds in The Unemployed Cook's entry of Spring Succotash and Cherry Tomato Bruschetta … mmm, just imagine the ripe little tomatoes bursting in your mouth — yum!

Another newcomer joins in the fun … it's Sumi's Kitchen from Illinois with so many vegetables in the lasagna, it's practically bursting!

Farmgirl Fare's new site, In My Kitchen Garden is really taking off, with a recent mention on CNN's site. Go take a gander and see what she did with these wonderful looking greens:

Until today, I had never heard of Tomato Rasam, but you can check out Cooking Within My Grasp's site for all the details:

The Savory Notebook pops in, taking full advantage of the gorgeous Springtime weather with dinner from the grill with her BBQ Pork Chops and Baked Triple-Bean Pot:

The Aspiring Annapoorna from Arizona shares her take on Navratan Salad, a very delicious jeweled couscous. Yum!
Beautiful plating and a very Spring-themed Chilled Cucumber Soup finishes off this weeks' round-up from Food for Thought in Illinois:

OK folks, that's a wrap for this week. Until tomorrow …
A year ago today … loaded sweet potatoes.
Guy Fieri's Waka Waka Salad
1 cup canola oil
1 cup red wine vinegar
1 teaspoon minced garlic
1 teaspoon minced ginger
1/2 packet ramen oriental seasoning
Pinch salt and freshly ground black pepper
1/2 head Napa cabbage, sliced 1/8-inch thick
1/4 head red cabbage, sliced 1/8-inch thick
1/2 head green cabbage, sliced 1/8-inch thick
2 red onions, thinly sliced
2 carrots, shredded
4 tablespoons chopped cilantro leaves
24 wonton skins, fried
3 ramen noodle bunches, broken into small pieces
3/4 cup Spanish peanuts, finely chopped (I didn't chop, and liked them better this way)
In a large bowl combine oil, vinegar, garlic, ginger, ramen seasoning, salt and pepper. Set aside. In a large bowl, mix cabbages, onions, carrots, and cilantro. Whisk the dressing and pour over the cabbage mixture. Toss thoroughly. (Dress the salad no more than 10 minutes prior to serving.)
Place equal portions of salad on wonton skins and top with ramen noodles and chopped peanuts. Serve immediately.
Martita's Awesome Asparagus
Serves 4 (or just one asparagus lover!)
fat-free cooking spray
1 lb. asparagus spears, bottoms ends trimmed, cut into thirds
1 tablespoon extra virgin olive oil
1-1/2 tablespoons grated Parmesan cheese
1 teaspoon garlic salt
freshly ground cracked pepper
1/2 medium red onion, thinly sliced
Preheat oven to 375. Spray baking sheet with fat-free cooking spray and place asparagus on sheet. Drizzle extra virgin olive oil over asparagus. Sprinkle on cheese, garlic salt and pepper; toss well. Top with sliced red onion. Bake for 30 minutes or until crispy.