Another Tuesday, and another ARF/5-A-Day roundup is here. Nicholas and I were on our own tonight with The Husband working late, and we started dinner with a drink (non-alcoholic, thank you very much) that's perfect for today. Called the Pom Pom, when I saw this recipe in the May issue of InStyle magazine, I knew it would make an appearance here. A little too tart for my taste, the ingredients certainly have your ARF bases covered.
The Pom-Pom (serves 4)
3 cups chilled unsweetened cranberry juice
3/4 cup chilled pomegranate juice
1/3 cup fresh lime juice
6 packets of no-calorie sweetener
3 cups chilled club soda
In large pitcher, combine cranberry juice, pomegranate juice and lime juice. Stir in sweetener until dissolved. Add club soda and pour into glasses.
First up this week is a deliciously creamy, veggie-laden Whole Wheat Penne with Creamy Basil & Veggie Sauce from Cooking Medley:

Just the mention of Gorgonzola, and I am so there. Albion Cooks' contribution of Farfalle with Green Beans and Gorgonzola sounds divine!

Anthony's Kitchen shares a new-to-me recipe with his Zhunka dish:

Hey, was this a Gorgonzola-theme that I didn't know about? Kalyn's Crunchy Chopped Salad with Gorgonzola looks deliciously refreshing for Summer heat:

Although she has a to-do list a mile long, Food, In the Main squeezes in time to make a healthy sweet treat with her Orange-Carrot Cake: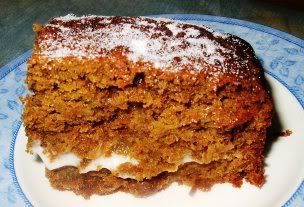 Meeta from What's for Lunch, Honey? whipped up a Super Veg Sandwich inspired by her recent travels to San Francisco, "the world's best city ever!"

Our resident Veggie Evangelist checks in with a beautifully colorful Green Bean and Radish Salad:

Foo Foos? Yep, Blog Appetite has them and you can find out all about them in her entry of Callalo Soup. Go check it out.
Gabriella shares her better-than-the-restaurants'-version of Chef's Special Salad with Cranberries and Pecans:

And last, but not least, we're ending with another recipe perfect for the Summer with Manpasand's Grilled Corn – Indian Style