I, for one, am tuckered. A weekend of running around getting ready for The Husband's surprise birthday party today, I could use some time of doing absolutely nothing. By the time I kicked him out of the house this afternoon, under the guise of going to the movies with Nicholas and The Brother-in-Law, I was left with about 2 hours to get set up for the festivites. Luckily, my sister and The Neighbor Husband both came by to help, and we got everything done just in the nick of time. He was pleasantly surprised. He figured something was up, but didn't know his sister, uncle and family friend were going to be here, so that was good.
It was one of those afternoons where if anything could go wrong, it did, comically. I ended up sending them to the wrong movie theater, getting the theaters and the respective movie times mixed up. Since my sister was dropping my brother-in-law off there, and wasn't familiar with the area, I had to give her directions, in between The Husband calling me. Then later on, right before the party started, my sister and I were in the backyard setting up and The Husband and crew came home (being the first guests at his own party!) and the front porch was locked, so they couldn't get in. My sister closed the back door so we could finish before they came through … and promptly locked US out. So everyone was temporarily locked out of the house, but all's well that ends well.
Thanks to everyone who helped out last week with decorating ideas … I used quite a few of them. I put red tablecloths on the two long tables, and used Chinese Lucky Bamboo as the centerpieces. Then we scattered gold coins and Chinese candy and gum down the center of both tables. This morning, I bought a bunch of fortune cookies and almond cookies, and yesterday picked up Chinese beer. My sister did a great job stringing up bright ribbon above the tables, and filling them with lanterns, really setting the mood. Chopsticks, fans and small Chinese drums for the kids were the final touches. Even after I gave a lot of food away, we will definitely be eating Chinese food for a few days, but all in all, a good time.
Alright, earlier in the month, I asked fellow bloggers to join me in I'll Show You Mine If You Show Me Yours #4. This time, everyone was to reveal the one kitchen item they couldn't live without. Round-up is below — enjoy!
For the next edition, speaking of parties, show us what your "go to" dish is for entertaining. You don't have to actually make the recipe, but if you do, all the better. Is it a dessert that you serve again and again to rave reviews? A main course? A drool-inducing winner of an appetizer? Post about it and send me the link by September 30th to be included in the I'll Show You Mine If You Show Me Yours #5 roundup.
Until tomorrow…
A year ago today … the meal that wasn't to be.
First up is Erika from Tummy Treasure in Wisconsin. She can't live without her chef's knife. If I wasn't so accident prone, which totally runs in the family, I'd completely agree.

Chrispy from Experimentation of Taste in Washington is next. She can't live without her microplane graters – I didn't know they had so many different kinds!

Bake or Break can't live without her double oven, and I am SO there! That's one advantage to us putting our house on the market in the next few months … I am definitely getting a double oven in my next kitchen.

Heather from Eating for One in Kansas can't live without her KitchenAid. I'm right there with you, Heather!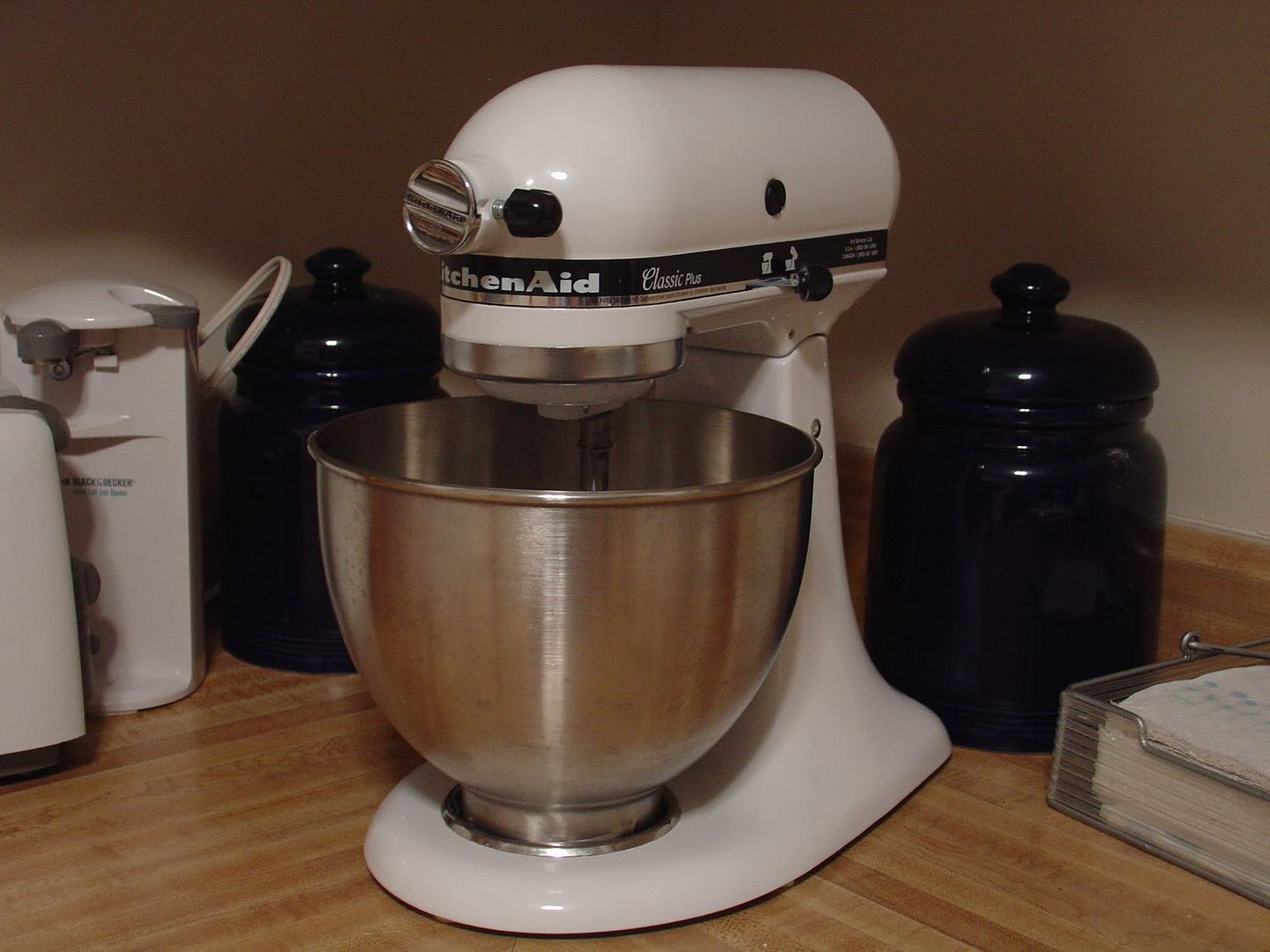 Ulrike from Kuchenlatein in Germany can't live without her ice cream scoop:

Pat from Up a Creek Without a PatL can't live without her food processor:


And now, my entry. I thought long and hard about this because there are more than a few items I rely on heavily in my kitchen. But I've decided I can't live without my oven mitts. I got these last year, and as unwieldy as they are, I haven't burned myself since using them, and for me, that's saying a lot.