Happy Easter to everyone who celebrated it. Since Easter is one of the holidays that my Mom hosts, we spent the day at my parents' house and, as usual, there was quite the spread. A few new recipes and many tried-and-true favorites, even though my Dad would be the first to say it was too much food, I thought it was just right. Let's see if I can remember everything.
Starters:
– Deviled eggs
– Colored hard-boiled eggs
– Platter with juicy red tomatoes, basil and mozzarella
– salami platter (which Nicholas loved)
– Smoked Salmon Dip with pita chips
– the prerequisite bowl of anchovies (blech!) – A Brie and Sun-Dried Tomato warm dip (from a Costco cookbook. I'll dig out the recipe, but this was a new one and a definite repeater. The cruxt of it is you hollow out a bread bowl. Put melted butter in the bottom, and layer with cubed Brie, chopped up sun-dried tomatoes, pine nuts and more melted butter. Bake until bubbly. Devour. So good.)

Main course:
– Baked ham, of course
– Italian Meat Pie, a tradition for Easter
– Dijon Asparagus
– Grandmother's rice (not OUR grandmothers. This is another new one, again from one of the Costco cookbooks. Very easy, with the unusual twist of chickpeas. Recipe will come)
Dessert:
– Lemoncello Torte
– Cake in the shape of an Easter egg
– Mini cupcakes
– that traditional cross shaped cake that has an egg in the middle (does it have an official name?)
– Peanut Butter Fudge
A delicious feast, as always, and I'm sure I'm forgetting a few things.
A year ago today… trash teasers.
Two years ago today… a delicious recipe from Giada.
Just a few pups for Weekend Dog Blogging:
The clan at Sugar Mountain Farm enjoy a frolic in the snow: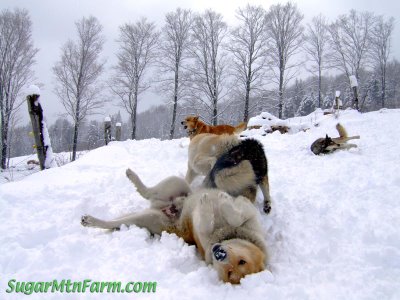 A very sleepy Willie is back this weekend from Eating for One: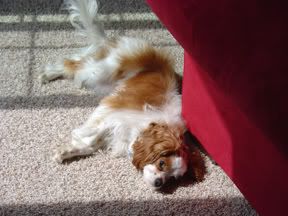 The duo at Shrike and Whozat are up to no good, but at least they're cute while they're doing it.