First of all, thanks for the well wishes today. Much appreciated! I'm feeling a smidge better today, just waiting 'till I can swallow, yell, eat or laugh without pain. Not asking too much, right?
No dinner report since we went out for dinner tonight. Given how I'm feeling, I definitely wasn't going to be cooking dinner, and didn't feel like take-out. I had London Broil with Mushroom Gravy over Texas Toast. It was so delicious and great tummy-warming food. Not exactly a WW meal, but when you're sick, you want comfort food, and this fit the bill perfectly.
The mailman delivered two brand new cookbooks today. I got Anne Byrn's new book, Cupcakes! From the Cake Mix Doctor and Zov: Recipes and Memories from the Heart.
If you've been following my blog, you know I love cupcakes. I'm always on the lookout for a new cupcake cookbook and there's definitely a crop of them out there. This one has received great reviews from what I've seen so far, and I'm looking forward to delving into it. Planning on making a test batch this weekend for Nicholas to bring to school on Monday.
The Zov's one is a definite new one for me. A bistro in California, it's heavy on pan-Mediterranean and Middle Eastern recipes. I love when you can go to a restaurant, fall in love with a dish you ate there, and then come back and recreate it at home. I wish more restaurants were open to divulging some of their recipes, as opposed to the ones that hold them tight to their chest. I really don't think it hurts their business to give some of the recipes out. If I cook a restaurant dish for someone, and they love it, I'll follow up by saying, "I first had it at so-and-so restaurant," which is bound to give the restaurant more business. Zov herself holds cooking classes and has a nice following of devoted customers, so I'm looking forward to cooking out of this one too.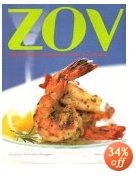 If you missed Nigella's last article in the New York Times, she tackles finger-lickin' good food with her recipe for Maple Chicken 'n Ribs, followed up by a dessert of Cappuccino Walnut Cookies. I simply love how she writes. Noone before her has made food talk so, well, sexy. The Boticelli Queen of the British kitchen, she reigns supreme on making food purely sensual, but in a very attainable way for the home cook. You can check out the article here (free registration required to view the article and recipes).
It doesn't take a degree in anthropology to explain why eating with your fingers is always satisfying. Food just tastes better, and you feel – in a deep, primitive sense – that you're really eating.
I didn't go to Supper Club tonight, and opted to stay home and rest instead. I need it. One of the Supper Club members has promised to take pictures of all the goodies that we're missing. This month's theme was dishes that have an accompanying sauce. Tune in tomorrow and catch all the details.
Until then…