At the end of every month, bloggers worldwide participate in EotMEot (End of the Month Eggs on Toast). Similar to the Is My Blog Burning events, it brings bloggers all together in that we're all cooking something similar at the same time. The requirements for EotMEot? The dish has to have eggs and bread. Can't get simpler than that. At first I was going to do a breakfast submission … pretty creative given the ingredients, huh? But then The Husband and Nicholas went to McDonalds and brought breakfast home. So instead, I decided to add a dish to our dinner as my EotMEoT contribution. I present Tomato Egg Pizza, my own recipe.
It is very simple to make and delicious. I cheated for the crust and used Pillsbury Pizza Crust. Line a pizza pan with foil and spray with non-stick spray. Spread the crust out the reach the edges of the pan. Sprinkle with salt, freshly ground pepper and assorted fresh herbs (I used garlic chives, tarragon and rosemary). Bake for 8 minutes at 400. Top it with chopped plum tomatoes (about 7, making sure the pizza is covered), mozzarella (about 1/2 cup), chopped fresh basil (about 3 tablespoons), dried oregano, salt, and pepper. Drizzle it with olive oil and bake it for another 6-7 minutes. Crack a few eggs in a small bowl and gently slide over the pizza. Return to the oven for a few more minutes, until whites are set, but yolk still loose. Eat and enjoy. I love sunny side up eggs on pizza. Another favorite of ours is a similar method, but on the grill with prosciutto.
Today we celebrated our 7th wedding anniversary. Hard to believe it's been that long already! The Husband suggested getting Paella from a local restaurant, so we got that and a starter of Grilled Garlic Chorizo – yum.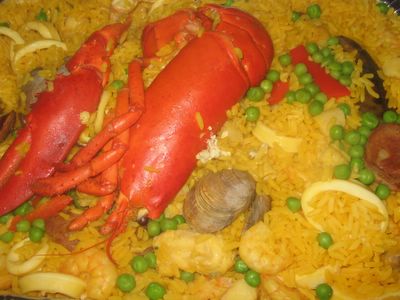 Paella
Made one other recipe tonight, Lemon Drop Liqueur. Planning it as one of my contributions for June's Supper Club, and since it has to sit for three weeks, I figured I'd get a jump on it. The recipe is from the June issue of Cooking Light magazine. Haven't had it before, but it could not be simpler to make, so hoping it's a winner. There's always some satisfaction is those recipes that take some time to make. You know, when someone tries it, and your response is, "Yeah, it took me THREE WEEKS to make!"
Off to bed early tonight. Tune in tomorrow to find out what I'm up to this week. Until then…
Lemon Drop Liqueur
2 cups sugar
1 cup water
5 lemon rinds, cut into strips
3 cups vodka
1/4 cup lemon juice
Combine sugar and water in a medium saucepan; cook over medium heat 5 mins or until sugar dissolves, stirring constantly. Remove from heat, stir in rind. Cool completely. Stir in vodka and lemon juice.
Sterilize 2 wide mouthed 1 qt jars. Divide vodka mixture between jars. Cover each jar w/metal lid & screw on band. Store in cool, dark place three weeks, shaking jar every other day.
Line a fine mesh sieve with a double layer of cheesecloth; strain mixture through into a bowl. Discard solids. Return liqueur to jars or clean decanter; stor chilled in refrigerator or freezer. Yield: 4 3/4 cups. Keeps in freezer for up to a year.
To serve, pour over ice with two parts sparkling water for a cool, delicious lemon spritzer. To serve straight up, coat the rim of a chilled martini glass in lemon juice, then dip the rim in sugar. Garnish with a slice of lemon.