She did it! My sister hosted her first family gathering and did a fantastic job. Everything was delicious, there were plenty of great options and most importantly, she was relaxed and enjoying herself. Nothing is worse than a stressed-out host! Culling recipes from Paula Deen, Nigella Lawson and Barefoot Contessa, she made Sausage Cheese Bake, Praline French Toast Casserole, Hashed Potatoes, a Fresh Fruit Platter and the finishing touch was a wonderful dessert, Chocolate Dessert Cloud.
And first at the table, reserving his spot, was her cat, Sir Nelson.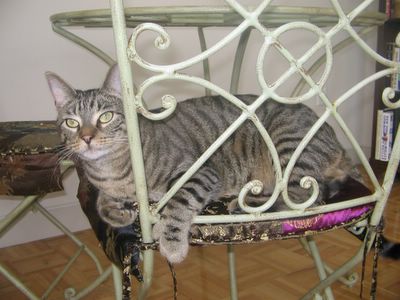 This is a super simple recipe from Paula Deen that you pull together the night before. Sweet without cloyingly so, this Praline French Toast Casserole is packed with flavor in every tender bite.

Cheese, eggs and sausage make this one a winner.

The Fresh Fruit Platter was a big hit with Nicholas, who loves, loves, love all fruit.

And the final dish was this dessert from Nigella. Not overly rich, it is a nice subtle, light chocolate dessert that was a perfect capper for brunch.

Chocolate Dessert Cloud
After Brunch, we walked downtown because Hoboken happened to be holding their Spring Art & Music Festival. Although it was pretty difficult to look at food after Brunch, there was quite a bounty available there, from Greek to Indian and everything in between (even Fried Oreos!). Great music was scheduled throughout the afternoon, and it was really hard to tear Nicholas away from the Cuban and Latin segments. "One more song!" "One more song!" He really enjoyed Verdict and Rico Tumbao. The fair was filled with all sorts of artisans displaying their wares, and I picked up two nice prints for our home. A really nice way to end the afternoon.
Until tomorrow…