I'm slowly making my way back into the kitchen and cooking. I think I had a little burn-out on top of the bronchitis, so I'm making a conscious effort to scale back a bit, in all areas.
Tonight was a nice easy meal, and delicious all around. The Husband is a big fan of chicken wings, and really, what man isn't? Like some sort of rite of passage … must watch football, must like chicken wings. Probably in their Man Manual somewhere. I made Sesame Chicken Wings with a side of Coconut Rice. The wings were super simple to make, and were quite tasty. Not being a wing-fan myself, I only had 1, and The Husband finished the rest of the 2 pounds himself. I really like the Coconut Rice, and have made it before. The Husband? Not so much, so things balanced out nicely. For dessert, I made Brown Sugar Bananas over ice cream. The Husband was pretty happy with that. I first made these some 7-8 years ago and lost the recipe soon after. Although I knew the basic ingredients, I couldn't duplicate it close enough … until today. This time, I'm putting the recipe in a safe place!

Sesame Chicken Wings with Coconut Rice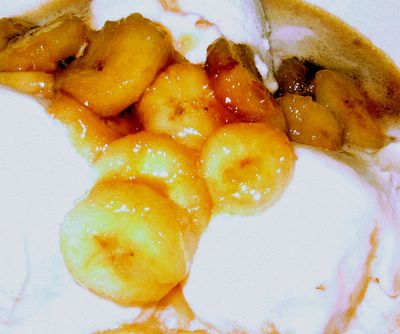 Brown Sugar Bananas over Ice Cream (not easy to take a picture of vanilla ice cream)

Life in Flow has posted the round-up of all the entries for this past Sugar High Friday – a whopping 57 entries of different tart recipes. All I can say is "WOW!" You're sure to find some great inspiration in the entries, so check it out when you get a chance.
Until next time…
Brown Sugar Bananas
1/4 cup butter
4 medium bananas, peeled and sliced
1/2 cup firmly packed brown sugar
1/2 cup maple syrup
Melt butter in a large skillet over medium-high heat. Add sliced bananas and next 2 ingredients. Saute mixture 5 minutes or until the sugar melts. Spoon over vanilla ice cream and top with whipped cream and toasted coconut.
Coconut Rice
3/4 cup light coconut milk (2 tablespoons reserved)
1-1/2 cups water
1 clove garlic, minced
1/2 teaspoon salt
1 cup basmati rice
1/2 teaspoon dried basil – or 2 teaspoons fresh
Bring coconut milk (reserve 2 tablespoons), water, garlic and salt to a boil. Add rice. Simmer uncovered for 20 minutes. When rice is done, stir in the reserved coconut milk and basil. Serve.
Sesame Chicken Wings
1/3 cup bottled teriyaki sauce
2 tablespoons tamari sauce
4 teaspoons toasted sesame seeds
2 pounds chicken wing drummettes
3 tablespoons BBQ sauce
3 tablespoons honey
1/2 teaspoon toasted sesame oil
In a large Ziploc bag, combine the teriyaki sauce, tamari sauce and sesame seeds. Add chicken. Seal bag and turn to coat. Marinate in refrigerator for 30 minutes to 24 hours. Preheat oven to 400. Line a baking sheet with foil. Using tongs, transfer the chicken to the baking sheet. Discard extra marinade. Bake for 15 minutes. Meanwhile, for sauce, in a small bowl, combine BBQ sauce, honey and sesame oil. Brush chicken with half of the sauce; bake for 10 minutes more, turning and brushing with sauce after 5 minutes. Serve warm.