Tonight was leftover night … a mish-mash of leftovers, made up of Chinese food, Black & Blue Burgers, pasta salad, homemade pizza and more. I managed to clear a little bit of free space in the fridge, and that's a good thing, especially with Supper Club coming up.
My turn to bring lunch tomorrow. I made a Crustless Cheddar-Spinach Quiche and Light Pimiento Cheese-Stuffed Celery. I cheated with dessert and bought Starbucks frozen mocha bars. For anyone following Weight Watchers, the celery is 1 point, the Starbucks bars 2, and the quiche 5 (and that's for a 1/4 of the pie!). Both the quiche and celery are new recipes, so hopefully they're good ones.
Made a Paula Deen recipe tonight (Brown Sugar Squares) that actually resulted in my first dud from Paula. I was making them for Nicholas to bring into school tomorrow, but they're just not up to par. Not very sweet and not really any distinctive flavors, so I think they're going in the trash.
Tomorrow night, company's coming. Making Lemon Spaghetti for a main course, and I think a Tomato, Mozzarella and Basil salad for starter. Dessert still to be determined. Tune in tomorrow to find out what's on tap for Supper Club.
Until then…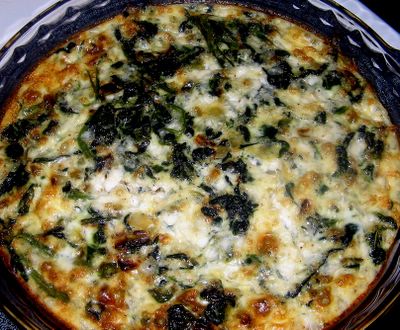 Crustless Spinach-Cheddar Quiche
2 teaspoons canola oil
1 medium yellow onion, finely chopped
1 (10 ounce) package of frozen spinach, thawed and drained (I used fresh)
1-1/2 cups (about 6 oz) light shredded Cheddar cheese
6 large egg whites
1 large egg
1/3 cup low fat cottage cheese
1/4 teaspoon ground red pepper (cayenne)
1/8 teaspoon salt
1/8 teaspoon grated nutmeg
Preheat oven to 375. Coat 9-inch pie plate with cooking spray and set aside. In a nonstick skillet over medium-high heat, heat oil. Add onion and cook, stirring, for 5 minutes, or until translucent. Add spinach and stir until moisture has evaporated, about 3 minutes longer. Sprinkle cheese evenly in prepared pie plate. Top with spinach mixture. In medium bowl, whisk together egg whites, egg, cottage cheese, red pepper, salt and nutmeg. Pour egg mixture evenly over spinach. Bake 30-40 minutes or until set. Let stand for 5 minutes, then cut into wedges and serve. (4 servings)

Print it!