For The Neighbors Dine Over Sunday, The Husband and I joined forces on the menu tonight. He offered to make his Roast Pork and asked if I'd make my Cuban Black Beans to go with his rice. He says it tastes very close to his grandmother's recipe, and that's quite a compliment. It takes 6+ hours to make, but well worth the effort, especially since it needs very little babysitting. I also added in some Brown Sugar Glazed Sweet Potatoes, since I still had some sweet potatoes leftover from Thanksgiving. A favorite recipe of mine, it's sweet, without being overly sweet, and a tried-and-true.
I had a menu planned for tomorrow night, but am shifting it to Tuesday instead. There's just no way I could fit anything else in the kitchen refrigerator, so tomorrow is going to be a desperately needed Leftover Day. One of the new recipes I had planned for tomorrow is Mussel Chowder, and since fresh seafood has a short life and I already have them, I'll still make this. I've not only planned the rest of the week's menu, I had all the groceries delivered for it this morning, so I'm in really good shape.
For Treats to Work Monday, I made a new recipe, Caramel Pecan Apple Cake. I told The Neighbor she had to save me a piece since it looked so darn good, I wanted to make sure to do some official taste-tasting myself. All in the name of research…
OK folks, all for tonight, so I can leave you with the round-up for Weekend Dog Blogging (WDB) #11. Quite a bunch of pups tonight, I think this might be a record for participants. If cats are more your thing, make sure to hop on over to Clare's site and check out her Weekend Cat Blogging round-up, and then join in the fun at Kalyn's Kitchen for Weekend Herb Blogging.
Just look at this face! Ivor is a newcomer to WDB and joins us from The Kitchen Journal:


The Cold War thaws out a bit amongst the pet population over at Dispensing Happiness:


WDB newcomers #3, meet Mimi and Rufus from Unami


I think Lulu from Why Travel to France sure gets around a lot more than I do — what a well-traveled dog!
Look at the size of the baby from Just Heavenly — too cute: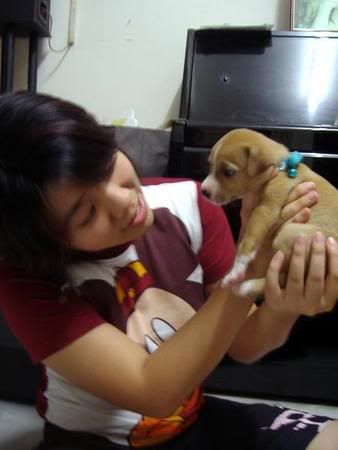 Piggy and Letta checking in from Something So Clever:


Begging for a belly rub, Max from Culinary in the Desert:


Truly knowing the definition of fun, a newcomer from the famous Becks & Posh:


Just a Sunday stroll from The Cooking Adventures of Chef Paz: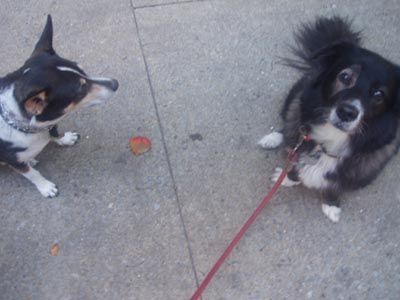 Ziggy from Soul Fusion Kitchen having some good old fashioned fun:


Bear, giving new meaning to the term "working girl," over at Farmgirl Fare, planting some garlic. Hey, can I put my order in now?


Geesh, I wish our Eli could fit in our sink – would save us a bundle at the groomers! Sammy checking in from Taste Everything Once:


The dogs at Musings kicking back over the holiday:


Ditters from A Little Bit of Everything looking quite comfy:


Our last newcomer for this week, check out the beautiful dogs from Forest Walks:


And continually amazing me with his Dog Coordination Abilities, here are the pups from Rob Wonton:


And last, but not least, our submissions. We were dogsitting my parents' dog, Beauregard, this weekend, and you can tell our new kitten, Sugar, was pretty fearless. Here's how they spent their Saturday afternoon. I know, it's a rough life, isn't it?


And Nicholas loves taking pictures now, of course with my nice new camera, but check out the shot he got of Beau on Thanksgiving. Not bad, eh?