Had a great day today … a little bit of erranding, a little bit of cooking, and even some gardening and raking thrown in for good measure.
For tonight's dinner, I made White Wine Gouda Fondue to start, a Turkey Cobb Salad with Cranberry Vinaigrette, Pasta with Sausage and Broccoli Rabe and then finished the meal off with Creme Brulee. All were new recipes, except the Creme Brulee. This is one of The Husband's favorite desserts, so he was quite the happy camper, devouring two before I even got my spoon into one!
The Fondue – delicious, as was the salad and pasta. Safe to say I would definitely repeat the fondue and the pasta. The interesting thing about the pasta is that there are only three ingredients: pasta, broccoli rabe and sausage. That's it. I didn't notice until I was putting it together that there was nothing to make a sauce, so that had me a little concerned. I resisted the urge to play with the recipe and made it as is, and am glad I did. The Husband who doth protest ANY green vegetable had two helpings. Although Nicholas wasn't hungry, I know he'll scoff this up tomorrow night, and with me getting to sneak in the green veggies, you KNOW I'll be making this one again and again. It's also a real simple recipe, which is always a plus. I've put the Creme Brulee recipe below, and will add the others tomorrow.
Life here is never without adventure. A local mall opened its doors to special ticket holders tonight for after-hours pre-holiday shopping (money donated to local Fire Department), and as The Neighbor and I were heading out the door, one of the cats escaped (they're not outside cats). Over an hour later, with 3 of us going through all the neighbors' yards, we finally got Callie to come home. We live in a very hilly area, so it's not just a matter of walking around on flat land … scaling small cliffs in the darkness was NOT an easy task. I ended up catching her once and she tore into my arm pretty badly before breaking free. Luckily she is back home now, but it was quite the ordeal.
So The Neighbor and I finally get to the mall and managed to make a little dent in our Christmas shopping, which was nice. They had all sorts of entertainment throughout the mall, free food, coupon booklets and various discounts for each store. Bachelor Bob Guiney (who's really not a bachelor anymore) was also there, making an appearance, and we got a chance to chat with him. He's very personable, and was signing pictures of himself, but, um, aren't his 15 seconds of fame up yet?
I am working on our Thanksgiving menu, but it's so hard to narrow down the list! Other than that, I'm actually pretty organized this week. I already have dinner made for tomorrow (and even doubled it for The Neighbors); The Neighbor (believe it or not!) is making Stuffed Shells tomorrow night and giving us half, taking care of dinner for Tuesday; The Husband Cooks Wednesday (and given it's Thanksgiving Eve and I'll likely be commandeering the kitchen, it might be Chinese take-out), so I'm actually good all the way 'till Thursday! Not bad, eh?
OK folks, all for tonight. Weekend Dog Blogging #10 round-up is below. I promise to post the pictures of the Grand Midnight Buffet from our cruise tomorrow. Until then…
Meet Simba, a newcomer to WDB, from Up a Creek Without a PatL:

Dit from A Little Bit of Everything looking awfully adorable:

A mother and daughter team from The Cooking Adventures of Chef Paz: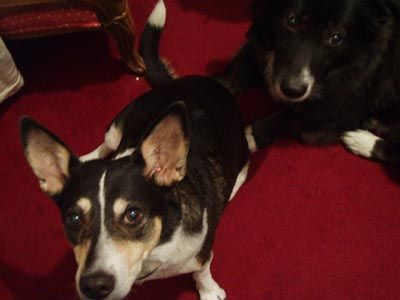 Some birthday celebrations from the group at Just Heavenly: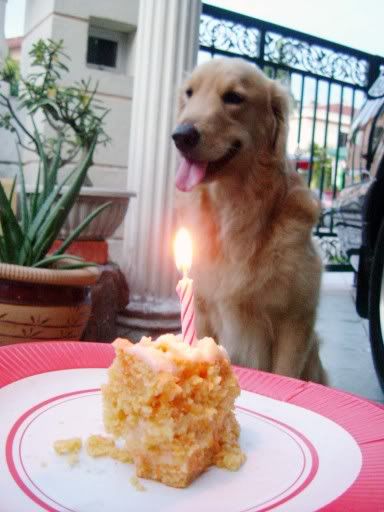 OK, Stephanie from Dispensing Happiness assures me the pups are NOT asleep, but given one is lying on the floor, they're looking mighty close to catching some zzz's!
Just catching a snooze … the pup from Farmgirl Fare:

Piggy from Something So Clever:

Ziggy from Soul Fusion Kitchen enjoying a new toy:

The perfectly-poised pooches from RobWonton showing amazing synchronization, right down to the tongues!

More pups taking a snooze from The Moveable Feast:

Some more newcomers to Weekend Dog Blogging, meet Sammy and Stumpy from Culinarily Obsessed:

The pups and kitty playing nice from Speculative Musings:

Maggie joins us from Modern Girls Kitchen, looking ready to take a nap:

And last, but not least, our very own Eli:


And yes, the picture IS right side up.
Creme Brulee
7 egg yolks
7 T sugar
3-1/2 cups heavy cream
1 t vanilla
extra sugar for sprinkling the tops
Heat cream and vanilla until very hot. Beat eggs with sugar until light and creamy. SLOWLY add hot cream to egg mixture and stir well. Pour mixture into 6 ramekins. Place cups in a 13×9 baking pan filled halfway up with water. Bake at 350 for 45 minutes. Remove from oven and cool, then refrigerate. When serving, I pull them out of the refrigerator about a half-hour before serving, and then immediately before serving, sprinkle about 1/2 t of sugar on top of each cup and broil until golden brown and crunchy.