One week from today, we'll be leaving for a week in sunny Bermuda and I CANNOT WAIT! When we booked it, it seemed so far away, and now I can't believe it's here. Perhaps I should start working on the whole passport/birth certificate entry requirement thing before I run out of time. ;)
Went to The Sister-in-Law's for dinner last night, and The Husband got quite a treat. She made his favorite, of course, Oxtail, along with Ropa Viejia (a beef dish that translates into "old clothes"), beans and rice, and plantains. Everything was delicious, and we got a chance to meet the new boyfriend, who even made a salad to accompany everything else … not a bad way to make an impression on his new girlfriend's family. ;)


Oxtail

Cuban Rice and Beans
Today we spent the morning at Marshalls Creek, PA, which holds a large weekly flea market. Nicholas and The Girlfriend had a great time shopping and everyone came home with all sorts of goodies. Between all the walking, fresh air and general "I'm with my girlfriend/boyfriend" excitement, no surprise that this is how Nicholas spent the ride home:

Dinner tonight was a bit of a challenge. The contractor finished one piece of our kitchen on Friday, but we are still without a working sink and dishwasher because the plumber has to hook everything up. I thought I was up for the challenge, and DID manage to pull it off, but it wasn't easy. We had Panzanella Salad, Linguine with Steamers and Apple Cobbler. All very simple stuff … if I had a sink/running water. The Husband, kind soul that he is, rinsed all the clams out in the bathtub and drained the pasta there too. You don't realize how often you use your sink or the water until you can't. Hoping it all gets hooked up tomorrow, otherwise it's definite take-out.
Got the new issue of Food & Wine magazine in yesterday's mail. Haven't had a chance to read it yet, but one of the cover stories is "Shopping guide for the food obsessed – 100+ gifts from $2.50 to $2,000." Can't wait to read that one! I'll give you some details on their suggestions tomorrow.
Busy week this week. Supper Club is Thursday, and I have NO idea what I'm making. The theme dish is using the ingredient cinnamon. If I don't go looking for a new recipe, I'll make the Cranberry Cinnamon Bars. Now to decide what else.
Until tomorrow… on with this weekend's round-up for Weekend Dog Blogging #8 (let me know if I missed anyone):
Ziggy from Soul Fusion, showing off his handsome new haircut:

In the "if it ain't broke, don't fix it" category, the perpetually sleeping pooches from Dispensing Happiness:

A gorgeously colorful picture of one of the dogs from Something So Clever, who's also done some banner redesign on her site to boot (Nice job, Alicat!)

Coco, a newcomer to Weekend Dog Blogging, is joining us from Stepping Stones:

The gorgeous Gino getting some schooling from The Flying Apple. Check out their website for even more great pictures.

Such an adorable picture and what a cute pink tongue … happy pups from Just Heavenly: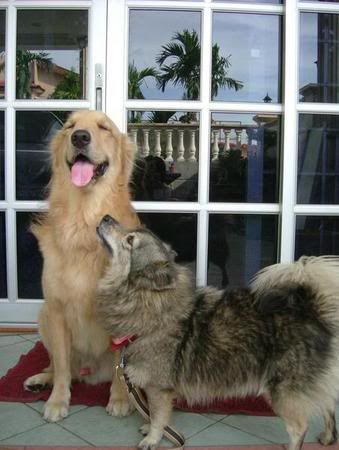 Another WDB newcomer, Nicky from Delicious Days joins us with borrowed dog, Josef. What a total "Hollywood" shot. Beautiful! Make sure you go to her site to check out more captivating pictures of a dog in love.

The pups from I'm No Heroine devouring a delicious Fall treat:

Another newcomer, Kirk from All In checks in:

The plate-licking pooches from Belly-Timber:

Newcomer Buddy from RobWonton – love the pic!

For when you're really, really thirsty, Robin from Farmgirl Fare proves where there's a will, there's a way:

A trip down memory lane with Bailey from The Savory Notebook. Check out those paws!
And lastly, my own boys:

P.S. You can check out the round-up for Weekend Cat Blogging here, currently being guest hosted by Masak-Masak and Weekend Herb Blogging Round-up at Kalyn's Kitchen.