I was checking out some of my referral links tonight and that usually sends you on never-ending chain of following one link to another link to another, ending up forgetting where you started. Anyways, through my wandering, I stumbled upon Food Talk, a great food blog from a pair of guys, Tim and Victor, from Pennsylvania. They are just about to start making a "bazillion cookies" for the holidays and definitely seem to have their system down to a science. Check out the site when you get a chance.
And now, as promised, my McDonalds Worldwide Round-Up. I asked fellow food bloggers to contribute some pictures and/or commentary on what their local McDonalds serves up. I picked McDonalds because it's fairly well-placed all over the world, yet the offerings vary from region to region. Heck, we have two McDonalds within 2 miles of each other and one has Pumpkin Pies, and the other doesn't. Another one 15 miles away has Coke Floats, yet the ones near me don't. Massachusetts and some Connecticut McDonalds offer Lobster Rolls (delish!), that we definitely don't get here in New Jersey. I thought it would be interesting to see some of the slight differences and get a glimpse on what we're missing out on.
Marc from Mental Masala was the first to write in:
In the McDonalds in Kuala Lumpur, Malaysia, their menu board has a sign that says something to the effect of "Guaranteed to be Halal" (The animals have been slaughtered according to dictates of Islamic law). Islam is the official religion of the country, and over 60% of the population is Muslim.
Next up is Dan from Salt Shaker in Buenos Aires:
Don't know if there are really any items on the boards that are different from elsewhere (though most McDonalds in Buenos Aires offer beer and/or wine, however not listed on the menu board that I've seen), so I popped into the closest mall, where there are four, count them, four McDonalds. There are two "regular" McD's, then there is a Kosher one, one of only three in the world (the other two are in Tel Aviv, according to the McD's website), and then there is the McCafe (which, unfortunately, the picture of sucks as I didn't realize the menu board was mirrored, and so all the lettering taken from an angle comes out doubled!). The McCafe's are quite common here – often completely separate from a regular McDonald's, and are sort of the local equivalent of a Starbucks (which doesn't exist here… yet…).As suspected, the kosher McD's doesn't offer bacon cheeseburgers…
Boolicious from Masak-Masak in Malaysia writes in and shares some great pictures:
I thought I'll share some pictures of menu boards from our local McDonalds. Not too sure which items are different from the USA ones but I reckon it should be the chicken porridge and the spicy McChicken Deluxe.
This is the flavour burst ice-creams which is new in Malaysia:

Chicken Porridge: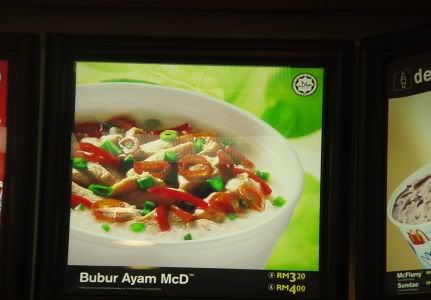 Current limited promotion: Potato Wedges with Grilled Chicken Foldover: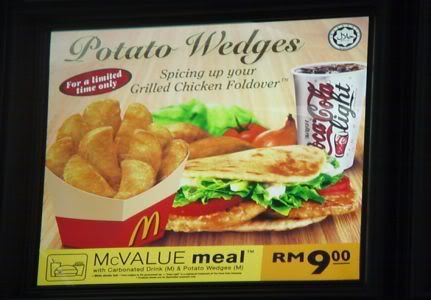 McValue Meals: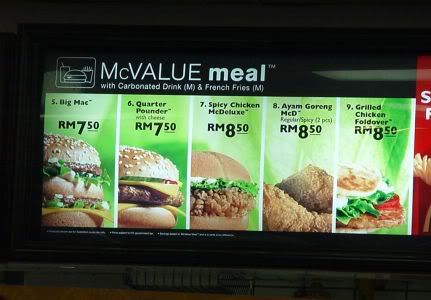 Karen from Bucaio writes in with some background on McDonalds in the Philippines:
The biggest distinction of McDonalds' Philippines is that it competes neck-to-neck with the local burger/fastfood joint Jollibee, which started first before McDonalds was brought to our shores. Jollibee perfectly captures the Filipino taste, so it's understandable that McDo (how it's called here) lags behind, but not too far.It's competitive strategy for both joints to be present where the other is, most of the time putting up branches side by side or right across the street. The same with the menu, too. McDonalds Philippines offers mostly what Jollibee offers. Filipinos love fried chicken, and Jollibee has fried chicken called Chickenjoy. Spaghetti with tomato sauce, too. And various desserts and savory mini-pies shaped like a mini turnover or empanada, using local flavors like macapuno, pineapple, ube, tuna, pizza.

So McDonlads Phlippines has the regular McChicken (sandwich), McNuggets, Fillet-o-Fish, burgers and fries, sometimes featuring Twister Fries which are spiral-shaped, paprika-crusted fries, sundaes and sodas, and various American breakfast fare like muffin sandwiches and sausages and pancakes, apple pie.

Plus additions to suit the Filipino palate like crispy fried chicken, spaghetti, Pinoy burger (Pinoy being the slang for Filipino), rice meals with hotdog and longganiza (a Filipino sausage similar to chorizo but sweet and fatty) and fried chicken with barbecue sauce, taro pie, pineapple juice, iced tea, chili chicken wings.
Kalyn from Kalyn's Kitchen wrote in with some info on McD's dining that she sampled while in Hong Kong:
… in Hong Kong, I had a hamburger with a fried egg in it. I think they called it a Shogun burger.
From Catesa at Look, Hunny, I Cooked in the Netherlands:
We have a few items that I don't think are available anywhere else, like the McKroket… its kroketten burger (burger with croquette I think it is in English?). Very interesting, tried it once, but its not worth the money to have again in terms of flavour. It'll be interesting to see what sorts of things pop up from around the world.
OK folks, that's all for tonight; quite an interesting fast food 'round the world education. Sure makes our plain Quarter-Pounders with Cheese look downright boring, eh? Those Paprika-Crusted Potatoes sure sound tasty!
I'll leave you with a little food funny. Reese Witherspoon was a guest on Ellen's show the other day (I love Ellen!) and she brought Ellen a crockpot filled with Coq Au Vin that she had made. Reese said that she uses her crockpot all the time and loves it because in the morning, you just throw a bunch of things in there and when you come home at the end of the day, it's dinner. Ellen said, "That's not cooking – that's magic!" I thought that was cute, and know crockpot cookers will appreciate that. Might be time to dig out the crockpot and cook up something yummy, food snobs be darned. ;) Haven't made The Husbands favorite Slow Cooker Thai Chicken in awhile. Tune in tomorrow to see what's on tap for the weekend. Until then…