The weekend is fast coming to a close, but I did manage to get a lot done. The Husband, Nicholas and Danielle went out to dinner tonight, so I ended up polishing the last of the Chinese food leftovers, and the yummy Spanish food they brought home.
For Treats to Work Monday, I made Rachael Ray's 5 Minute Fudge Wreath for both The Neighbor and I to take to our respective offices. I haven't tried it yet, since it needs to set, but it was certainly incredibly easy to make. Fifteen minute fudge would be a more appropriate title, but that's still lickety-split for the promise of fudge tomorrow. The Husband loves to lick a just-emptied can of sweetened condensed milk, so he was pretty happy with the treat selection too. I've posted the recipe for Rachael's fudge on my sidebar, and one of the beauties of it is that it includes ingredients you probably already have on hand. Need a teacher's gift or something last-minute for your neighbor? This might be just the ticket.
Now the rest of tonight's post is going to the dogs … pun fully intended. Vote for your favorite pup & food picture, and the winner, as decided by your votes will receive a $20 gift certificate to Amazon. Not too shabby, eh? You can vote in the Comment section below, up until midnight Monday evening, giving my morning readers a chance to get their votes in (*I tried to get a regular poll up, but it was not cooperating with Blogger*). Only one vote per person/computer … you're on your honor. ;)
Here goes:
A happy Gino sampling some fresh off-the-tree apricots … a great before and after shot from The Flying Apple. Needless to say, I think Gino's a fan of fresh fruit … slurp!

The extremely-patient Max from Balieue Blog showing the ultimate in resisting temptation, when faced with a big bowl of slow-cooked lamb.

The lovely, flying Max chowing down on a cookie, from Tattum's Kitchen:

The indisputably cute, but sheepish-looking, Ziggy from Soul Fusion Kitchen caught red-handed with his head (paw?) in the "cookie jar:"

Alanna from A Veggie Venture would be proud of this submission, where even the dog at The Cooking Adventures of Chef Paz enjoy his veggies: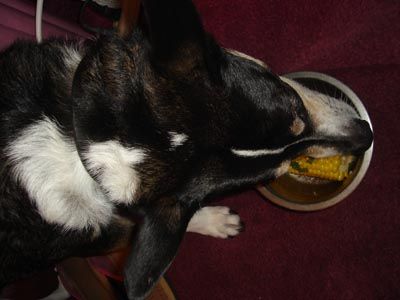 The erstwhile traveler, Lulu, checks in from Why Travel to France, in Central France with her eyes on the prize: sauerkraut. OK, so not very French, but a hungry pup is hungry just the same, and with a German restaurant just beckoning her, how can you blame her, especially with her own seat at the table?
The ever-adorable Bailey sitting pretty with his veggie, from The Savory Notebook:

Lady from Live, Laugh, Love celebrating her birthday in style:

Another birthday boy checking in, Mr. Hugo scores his very own little piece of birthday cake, complete with candle, from Just Heavenly … going … going … gone: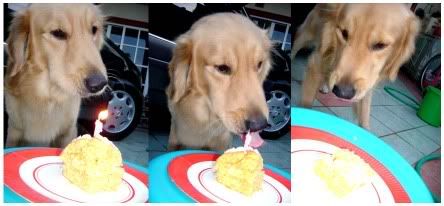 No doubt about it, Dale from One Hot Stove loves his dairy:

The adorable dog from The Kitchen Journal tries to show great restraint with his very own ice cream sundae:

Zavier, from Gia-Gina joins in the fun, following a salami trail, and showing great restraint considering he's even got salami on his paws!

Poor hung-over Sammy from Taste Everything Once … Sunday mornings are surely the worst!

In the "close … closer …. mmmmm, got it!" category, the pup from Belly-Timber relishes the rewards of a Bacon Mobile!

Kahlil from Urban-Agrarian taking care of one of the five recommended food groups, by getting in his "apple a day:"

Slightly late, but too cute not to be included, one of the new pups from Dispensing Happiness checks in with fresh minty breath:

Tune in tomorrow to see what Wolfgang Puck recipe hits our dinner table, more "must-have" cookbooks from lists published from recent cooking magazines, a hint of White Chocolate Fudge and more. Until then…
P.S. Obviously, Eli is not participating in this week's Weekend Dog Blogging Contest, so you'll have to wait until next weekend to see his pic with Santa.
P.P.S. Don't forget to check out Kalyn's Kitchen for Weekend Herb Blogging and Eat Stuff for the Weekend Cat Blogging round-up.