Since The Sister and Brother-in-Law were visiting his family for Thanksgiving, she invited us all over for dinner this afternoon as a belated holiday celebration. Cooking from Giada's first cookbook
, everything was delicious. Being Italian, of course we usually start with a traditional Antipasto platter, and today was no exception – yum! She also made some amazing breadsticks (which I plan to make this week for Supper Club) and White Bean Dip from Giada's cookbook. Giada's book got a serious workout today!


The All Important Antipasto Platter

Breadsticks

Then she made Giada's lasagna for the main course; Nicholas even ate it, and I managed to get the bites of spinach right past him, covering it up with the meat. ;) Dessert was Tiramisu, and I think this is my new favorite Tiramisu recipe. It's definitely going in my "keepers" pile.
I brought a dessert platter which had Cherry Coconut Bars, which I've made before, the Sour Cream Berry Bars from last week, and then I added two new recipes, Brown Sugar Meringues and Cherry Twinks. The Cherry Twinks are like jam thumbprints – simple to make and filled with buttery goodness. Both new recipes will be repeaters
I put together the office platters tonight for The Neighbor's Office and mine, and they included the Sour Cream Berry Bars, the Cherry Coconut Bars, Brown Sugar Meringues and one more new recipe for today, Toffee Crunch Shortbread. Considering I didn't cook lunch or dinner today, I ended up with another 4 new recipes today … not too shabby! I'll post all four recipes tomorrow.

Toffee Crunch Shortbread



Brown Sugar Meringues

The lovely Clare from Eat Stuff is hosting Weekend Cat Blogging, so while I was at my sister's place, I snapped a picture of her cat, Sir Nelson, hamming it up for the camera. Like our Sugar, Nelson is a polydactyl, those cuties with extra toes. He's also got an extra spare tire around his middle, but we don't like to talk about that…


Nelson Acting Up
And while we're at it, here's Sugar tonight, trying to catch a snooze in between playing with Nicholas … no rest for the weary:


A Serene Sugar
Before I leave you with the Round-Up for Weekend Dog Blogging (WDB) #12, make sure to tune in all this week … we have Supper Club on Thursday, with a theme of Summer in December, and I'm hosting a Cookie Exchange on Sunday, so there's bound to be lots of good recipes flying around. Until tomorrow…
Dale, our first entry this weekend, from One Hot Stove showing some serious dexterity!


The get-around-girl, Lulu checking in from a beach in the North of France in a town called, Sangatte: Why Travel to France:


Raffles, looking very serene, from Forest Walks:

.
Ziggy, looking cute as a button, from Soul Fusion Kitchen:

.
The pups from The Cooking Adventures of Chef Paz mugging for the camera: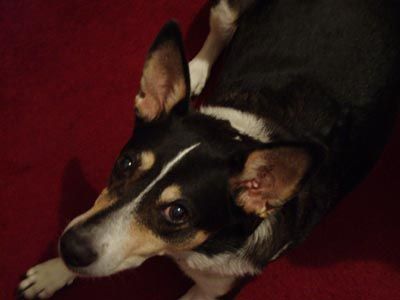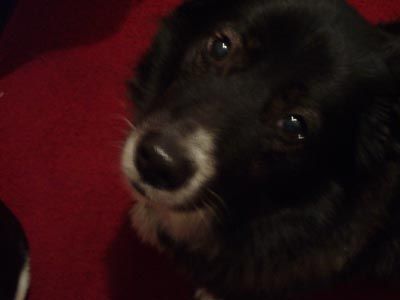 Snug as two bugs in a rug, the dogs from Unami look pretty content:


The perpetually poised pups over at RobWonton check in:


Another newcomer joining us from Three Martini Lunch:


Definitely voting for "magical" over at Farmgirl Fare, a llama and dog moment:


The dogs certainly enjoy the easy life over at Culinarily Obsessed … must be all that Southern charm!


OK, OK, THIS weekend, the pups at Dispensing Happiness have an excuse to be sleeping, as I'm sure they've been stressed about Macroom's condition. Glad to hear things are on the upswing in the DH household … hang in there!


The bemused pooches at Musings:


And lastly, a very serious-looking Eli: