I had an appointment after work tonight, so wouldn't be home for dinner. The Husband called me after I left the office:
The Husband: "Don't pick up your dinner on the way home." (He knows me too well)
Me: "Why not?" (what, no Diet Coke Float?)
The Husband: "I made dinner."
Me: "Really? What'd you make?"
The Husband: "I made your favorite food."
Me: "My favorite food is tortellini and I know you didn't make that!"
The Husband: "OK, I made your favorite food from the stuff that I make."
Me: "Yellow rice with green olives?"
The Husband: "Yup."
SCORE! Almost as good as tortellini… now if only I could get him to show tortellini a little love, we'd be all set.
We have a lot of fantastic inspiration for this weeks' ARF/5-A-Day round-up – a record 17 participants – not too shabby for only our 3rd week. In case you don't know what it's all about, every Tuesday, food bloggers who cooked something recently using an ARF (Antioxidant Rich Food), fruit or veggie, or any combination of the three are invited to send me their link to be included in the round-up. All to keep us on the road to healthier eating … or at least thinking about it! One lucky participant gets the spot of Top Photo in the round-up. On with the show!
Jennifer from Weekly Dish kicks us off with her Broccoli dish. Yum – broccoli and soy sauce is always a winning combination!
S'kat from S'Kat and the Food has me drooling with her Wild Maine Blueberry Pancakes and Crispy Bacon (just the way I like it). Who knew eating ARFs could be so good?
Kalyn from Kalyn's Kitchen brings us Sausage, Beans and Greens, covering both her ARF and veggie bases. Looks great!
Another food blogger, Chef Michele, is on the same page as Kalyn, combining beans and greens (my favorite ones – collard greens!) as well, making a delicious Pinto Bean dish with Collard Greens and Cornbread.
Alanna from A Veggie Venture entices us with Watercress Sandwiches with Chili Lime Butter.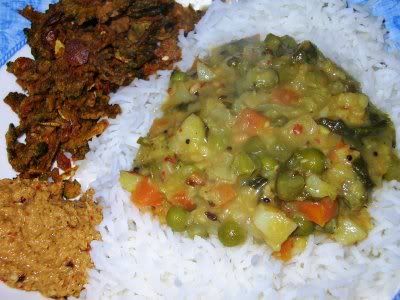 Shyamala from Food in the Main wins the photo spot of the week for her South Indian Mixed Vegetable Stew … with all the veggies she managed to get in her dish, how can we deny her? And she gets double credit, because last week she made a Carrot and Coriander Soup, I just didn't get the link in time.
The Cookbook Junkie, a name after my own heart, makes a beautifully colorful Confetti Orzo Salad, getting in TONS of veggies. Go Paula!
Stacey, from Just Braise, once again manages to wrangle her way into the round-up via a dessert. Hey, this is my kinda good eatin'! Check out her Apricot Soufflé with Vanilla Rum Crème Anglaise.
Nupur from One Hot Stove shares her Grated Sweet Potatoes, which look positively scrumptious, along with a great history lesson.


Cookie Crumb from I'm Mad and I Eat stops the flashbacks long enough to entice us with her Psychedelic Psalad, a medley of purple cauliflower, purple (Peruvian) potatoes and arugula, topped with flowerets of chartreuse Romanesco cauliflower and pomegranate seeds. Topped with an olive oil, vinegar and miso paste dressing, she has her ARFs and veggies more than covered. And although ALL the photos are gorgeous, we'll bend the rules and share her picture too … enjoy! ;)
Zabeena from A Lot on My Plate joins in for her first ARF/5-A-Day entry with Black Beluga Lentil Salad. Welcome, Zabeena!
Another ARF/5-A-Day newcomer, Karina from Recipes from a Gluten-Free Goddess, joins in the fun with Roasted White Bean Vegetable Ragout — talk about vegetable goodness, it doesn't get much better than this!
Heather from Eating 4 One contributes a fun recipe with her Italian Chicken Wraps, and better yet, tackling her growing "to try" pile, something I can totally relate to.
The Chocolate Lady from In Mol Araan brings us Lentil Soup with Kabocha and Cumin, taking care of both ARFs and veggies. I'm going to have to a little research – I have no idea what Kabocha is!
Patti from Adventures in Food and Wine made Roast Pork Tenderloin with Dried Cranberries (ARFs!) and upped the ante by adding Wilted Spinach on the side.
Susan from 5 Recipes a Week works through her cookbook library, tackling Black Bean Soup and Cheddar Biscuits. Although she wasn't too happy with the results, hey, at least it was healthy, right?
Kai from Bucaio, another newcomer to ARF/5-A-Day shares an ARF-rich breakfast that looks positively decadent. Make sure you check it out.
And lastly … me. Not knowing what I was going to do for dinner, I made sure to get my veggies in at lunch time, having sweet potatoes, spinach and dill potatoes. Yum!
Thanks again for all the participants, and most of all, all the inspiration. Hope to see y'all back here next Tuesday for ARF/5-A-Day #4!
Make sure to stop back here tomorrow for Part 2 of the Sandra Lee Showdown. Until then…