We turned things a bit upside down tonight, and had The Neighbors Dine Over Sunday at The Neighbors' house instead. The Neighbor did a great job, making a bunch of tried-and-true favorites from previous Sunday dinners, Smoked Salmon Pizza, Greek Salad and Creme Brulee. I brought Salami Salad with Tomatoes and Mozzarella and Cheeseburger Soup, which was perfect for this chilly, windy weather we've had all weekend.


Salmon Pizza
Before I leave you, tomorrow I promise to post what I'm doing with the overly ripe bananas … just ran out of time today to make something. And also there will be a belated edition of Sound Bite Saturdays (plum forgot all about it yesterday — ooops!). Until tomorrow…
Without further ado, here's the round-up for Weekend Dog Blogging #17:
Oliver and Harley from 2 Girls in the Kitchen check in from Canada:

Greedy Goose in Singapore's new Mom, Molly, takes a romp in the waters after giving birth to three healthy pups, followed by a picture of one of the new pups taking a snooze (awwww!) and a little cuddling with Oxford:

Dale from One Hot Stove:

Tiny from Ragus Pug visits us from sunny Florida:

Ziggy from Soul Fusion Kitchen:

Pepper from Cookin' with Cyndi:

The dogs from Musings give us a trip down memory lane with pictures from when they were mere pups:

Raffles and Missy from Forest Walks:

The dogs from The Cooking Adventures of Chef Paz out for a Sunday stroll: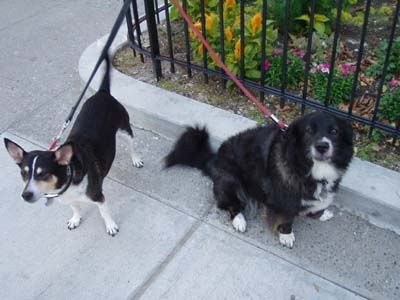 The cuties from Live, Laugh, Love join us with this wintery scene:

Up close and personal with one of the trio from Rob Wonton in California:

Robin and Leopold, the Ram, from Farmgirl Fare:

Sadie, Charlie and Moose getting ready for some shut-eye from The Moveable Feast:

Alisha shares a very cool, almost vintage-looking picture of her dog:

The too-cute-for-words Bailey from The Savory Notebook:

Doolin, Wicklow (this may be the first picture of a laughing dog in WDB yet!) and Donegal from Dispensing Happiness:

A relaxed and happy Buster from Adventures in Food and Wine:

And lastly, two contributions from me. First up is our Eli, in a picture Nicholas took yesterday:

Next is my parents' dog, Beauregard. He loves to sleep on this quilt. My parents were moving furniture out of the dining room and needed to protect the table, so they threw the quilt on top of it. Beau, of course, seeing "his" quilt, decided it was just a new bed for him, and yep, you guessed it, climbed up on the dining room table for his afternoon nap.


Beau