Hi all! Miss me much?! I'm finally back … home where I belong. ;) Nothing like bad hospital food to speed up a recovery, that's for sure, and I have the pictures (to follow later in the week) to prove it! One very unplanned gall bladder surgery later, it's nice to be home. No nurses poking me every 4 hours to check my vitals here. Still in pain, but recovering, so hoping to be back to normal this weekend … fingers crossed. In the meantime, I'm doing the ARF/5-A-Day tonight, but will put all other regular normal site activities (i.e., Rediscovering My Library Thursdays, etc.) on hold for this week. I'll definitely post daily, but normal schedule will resume with Weekend Dog Blogging this weekend. Don't want to push myself, and want to make sure to get the rest I need. And lest I forget, a thousand thanks to all of you who kept coming here to check up on me, and to my wonderful family and friends who couldn't have provided more support. I love you guys!
That being said, of course, there's no cooking here tonight. The Husband has been wonderful in taking care of me, so I ordered take-out tonight. Given it's ARF/5-A-Day, I made sure to focus on getting my veggies in though. I had half of a Spinach Roll and a little bit of Tortellini Soup, which was packed full of all sorts of veggies – zucchini, potatoes, cauliflower, carrots and more. It's the best I can do for now. ;) But, of course, my faithful readers never fail to turn up with their inspiring dishes, and you can see the whole round-up below.
While I was in the hospital, my very first article appeared at Paper Palate. I was thrilled when they asked me to become a contributor to their site, and picked a hot topic as my first piece. You can read it here. There was a hot furvor going on in the food blogging community last week, all started by an article in March's issue of Food & Wine magazine that had barely hit the newsstands.
I have another exciting announcement that you guys may be interested in, but you'll have to wait until tomorrow for that one. Without further ado, I present to you, the ARF/5-A-Day #8 round-up.
Just Braise starts us off with a two-header, a fantastic looking Roasted Red Pepper Tomato Soup and a yummy looking Citrus Salad.

The Spice is Right is up next with her Fenugreek Chickpeas:

Sailu's Food whips up some Lentil Pancakes with Vegetables. Never had something like this – can't wait to get back into the kitchen to try it out!

Paula from The Cookbook Junkie has another Food & Wine hit on her hands with Lentil Soup with Sausage. And Paula … I only have one child so far, but I think I'd agree with your sister. ;) It's definitely right up there!

Bilbo from Smorgasbord did us ARF/5-A-Day participants proud. Here's just one of the many things she had today that was full of ARFs, fruits and veggies. Way to go!


Alanna from A Veggie Venture produces some Leftover Magic, working in heaps of veggie goodness:

The Layered Chapati Bake looks scrumptious, coming to you from Food, In the Main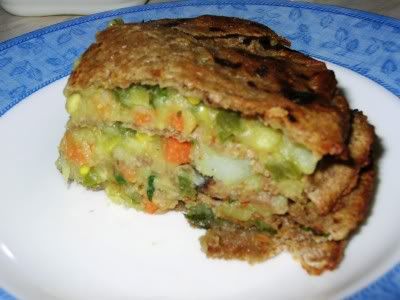 Head on over to Eating for One and check out her recipe for Spanish Rice, something I know Nicholas would definitely love.
Weekly Dish brings another take on tomato soup, making her version a spicy one. Wouldn't expect anything less from a Louisiana resident. ;)

Join me in welcoming a newcomer this week, Kadchhi ke Kamaal makes Methi Masoor Rice. Gorgeous pictures!
And lastly, you'll have to visit Farmgirl Fare's site to find out what she did with this.
That's it for this week, folks. A little less contributors than usual, but I bet some of my regulars weren't sure if it was going forward this week. You can all make up for it next week – I expect there to be twice as many of you here … go on and round up some of your friends. I think our record is 27 participants. Let's see if we can beat that.
I'll leave you with this weeks' Hot Health Hint. Being we're still in the midst of flu season, there are plenty of all-natural ways you can fight the flu. Here's a few for you to focus on:
1. Citrus Fruits: They are loaded with Vitamin C, which is integral for forming those all-important white blood cells that fight viruses. The recommended daily allowance (RDA) for women is 75 milligrams, or about 1 cup of OJ or one grapefruit a day. Don't overdo it – more won't increase your protection.
2. Beef, Dark Meat Poultry and Pork: These meats are bursting with zinc, which boosts your T cells and spurs them into action to fight infection. Even just a small zinc shortage in your body will lower your defenses. Your recommended daily allowance is 8 milligrams, and just a few ounces of lean meat will provide half that.
3. Orange Veggies: The orange coloring comes from carotenes, which your body converts into Vitamin A, which helps maintain the mucous membranes that keeps germs out. The newest USDA food pyramid suggests eating at least 2 cups a week of orange vegetables.
4. Almonds and Sunflower Seeds: Packed with Vitamin E, it improves your immune system's function, which is the primary way your body fights viruses. Vitamin E also protects your cell membranes from damage. One ounce will provide half of your RDA of 15 mg a day.
5. Tea: It has huge concentrations of L-theanine, an amino acid that spurs T cells to make interferon, which fights viruses.