Happy Valentine's Day everyone! Hope the day was whatever you wanted it to be. The Husband hand-delivered a dozen roses to me at the office today, so the day definitely got off to a good start. Nicholas couldn't wait to go into school today to deliver all his valentines … and he came home with a mailbox stuffed full of all sorts of cards, candy and fun treats; perfect considering today was his first visit to the dentist!
The Girlfriend came over tonight so she and Nicholas could exchange Valentine's Day presents, because as he told me, "Valentine's Day is for kisses and hugs." That cracked me up, because they are ALWAYS kissing and hugging. She walked in with a gift bag for him and a balloon that she picked out herself that says, "I Love You." He was very excited to get that, and is actually wearing it to bed.

Now onto our regularly scheduled event, ARF/5-A-Day Tuesdays. Bilbo from Smorgasbord starts us off with her Aloo Gobhi – we are so there with any type of Indian food!

Susan from Fat Free Vegan Kitchen gets in the spirit of Valentine's Day with her Sweetheart Fruit-Stuffed French Toast:

Kalyn from Kalyn's Kitchen takes another page from Mark Bittman's book, The Best Recipes in the World
and cooks up some delicious looking Pasta with Sausage and Collard Greens:

Alanna from A Veggie Venture entices us with her Vegetable Coconut Curry with Shrimp – ladles up!

Luckily, Paula from The Cookbook Junkie had a Plan B – these Apple Oat Bran Muffins look scrumptious:

28 Cooks presents Cranberry Upside Down Gingerbread Cake – looks divine!

Shyamala from Food, In the Main sends us on a journey while she serves up some delicious looking green beans: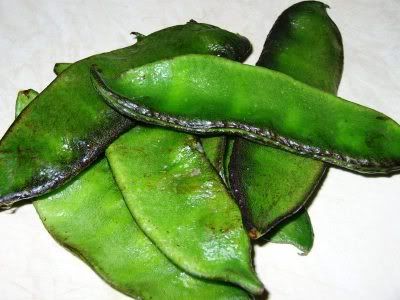 Sailu from Sailu's Food takes ARF/5-A-Day in another direction with her contribution, our first tea entry in our 7 week run so far:

Our first ARF/5-A-Day round-up with tea contributions, and there's not one, but two! Here's The Spice is Right's take on it, with her Green Tea:

I love the name of our next contribution, Salad a la Dad, from Ashwini from Food for Thought:

Sarah from Cucina Bella joins us for the first time with a wonderful sounding Spicy Turkey she made last month – glad to have you!
Another ARF/5-A-Day newcomer, Erin's Kitchen dishes up some homespun granola. I love making homemade granola for my yogurt, and can't wait to give this one a try.

In a post aptly titled Lemons, Berries and Love, Weekly Dish brings us another sweet treat:

The Chocolate Lady brings us another take on rutabagas, this time with an oven roasted version. Sounds divine!

Zabeena from A Lot on My Plate has a unique twist on a "cocktail," with her Beetroot Cocktail:

And finally, finally! Miss Clare from Eat Stuff puts Kiri down long enough to join in ARF/5-A-Day for the first time with her thoughts on mangoes.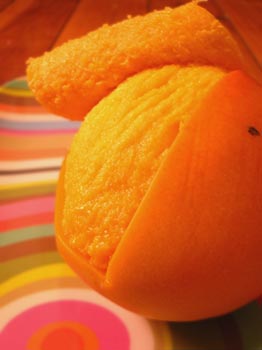 And now for what we had. The weather's been chilly, and it was a perfect night for some stew. It's a favorite in our house, and it's been awhile since I made it, so it was time to break out Potato and Lentil Stew. For dessert, I made another tried-and-true, Chocolate Scream! Cake. Very easy recipe and simply sinful.
So in recap, we have three newcomers, tea hit ARF/5-A-Day for the first time — twice, a new twist on a cocktail, 17 participants, and tons of sweet treats perfect for Valentine's Day. Who knew eating good could be, well, so good?
Until tomorrow…
Lentil & Potato Stew
Recipe courtesy of Jane Brody's Good Food Gourmet
1 cup lentils
4 cups water
1 teaspoon salt (optional)
1 bay leaf
1 tablespoon butter or margarine
1 tablespoon olive oil
2-3 large potatoes, peeled and cut into 1/2″ cubes
1 teaspoon turmeric
1/4 teaspoon cayenne or to taste
Salt to taste (optional)
Freshly ground black pepper to taste
2 cups canned chopped or crushed tomatoes
2 teaspoons garam masala
1 teaspoon honey
Water, if necessary
In a medium saucepan, combine the lentils, water, salt (if desired) and bay leaf. Bring to a boil, reduce heat to med-low, and simmer the lentils until they are just soft, about 30 minutes. Do not drain the lentils! Discard the bay leaf, then set the lentils aside.
In a large dutch oven or saucepan with a nonstick surface, heat the butter or margarine and oil briefly, and add the potatoes. Sprinkle them with the turmeric, cayenne, salt (if desired), and pepper. Cook the potatoes, tossing them, over medium heat, for about five minutes.
Add the tomatoes, the reserved lentils and their cooking liquid, the garam masala and the sugar or honey to the potatoes.
Cook the stew over medium-low heat for 10-15 minutes, stirring the mixture from time to time and adding water if the stew seems to be too dry.
Sweetnicks' Notes: I usually serve this over rice with a dollop of sour cream and mango chutney on top.