Another take-it-easy kind of day for me today. I didn't leave the house at all, and did more resting. To put it mildly, I was a bum. :) The Husband took care of dinner, and The Neighbor took care of dessert. It's all about the teamwork here at Sweetnicks. ;)
The other day, one of my visitors asked what some of our favorite "tried and true" recipes are. Tonight's entree, Jugged Chicken, is one of The Husband's oft-requested dishes, and one of our "tried and trues." A very simple recipe, it's a classic Portuguese dish known as frango na pucara and has a savory garlic sauce. It's called "jugged" because of the alcohol in the sauce. Make sure to have some nice crusty bread to sop it up with. I also made Glazed Shrimp with Bourbon Barbecue Dipping Sauce, and for dessert, The Neighbor made Paula Deen's Chocolate Bread Pudding. Delicious stuff, and a great way to use up day-old bread.
Finally back to resuming Treats to the Office Mondays, I made Mom's Cranberry Bread for The Neighbor to take into work. Not MY Mom's recipe … not sure WHOSE Mom it is, but the recipe is another simple one, and made use of ingredients I already hand on hand, as did the Shrimp dish.
Perfect.
And speaking of making use out of ingredients already on hand, in the days (and weeks!) to come, I'm going to be concentrating on cooking out of my pantry. It tends to get very overloaded, with ingredients routinely getting pushed to the back. Of course, when that happens, I invariably buy ingredients I already unknowingly have. That said, I uncovered a bag of cooked shrimp in the freezer today, so that's going to turn up in dinner somehow tomorrow. Until then … on with the Dog Parade! Off to watch the Oscars. :)
P.S. Just a quick programming note… for those that subscribe to my site and get daily e-mail updates, I have dropped the Bloglet service and resubscribed you all under FeedBlitz, so you should be getting the daily e-mails again now. If you don't, or have any questions, drop me a line.
A year ago today … I got another new cookbook and we had mussels our favorite way.
Paula Deen's Chocolate Bread Pudding

In a rousing game of "Spot the Doxies," can you find all three in this photo from Moveable Feasts Food Blog in Virginia? It took me a minute to find the third one.

An Alaskan Malamute from The Hungry Rose pops in:

Toby visits Stalking the Waiter in California. What a gorgeous, fluffy coat he has!

Kita from Sugar Mountain Farm in Vermont: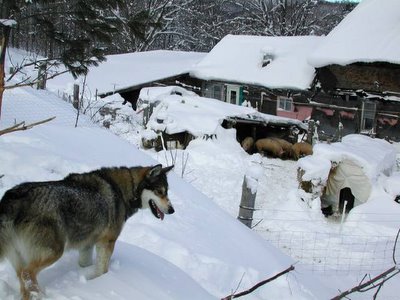 Somebody's sleepy … it's the pup from Up a Creek without a Patl from New England:

Zoe from Is it EDible?" in California brings Weekend Dog Blogging our first video – go check it out!
Lulu's neighbor, Alaska (love the name!), checks in from Why Travel to France is up next:

Little Willie from Eating for One in Kansas sits for a spell:

The pup from Something So Clever in Montana, getting all snuggly:

Bear trying to catch a little shut-eye at Farmgirl Fare in Missouri:

Beau stops by Ragus Pug in Florida:

Up next is Ziggy from Soul Fusion Kitchen in California:

And lastly, our own Eli, the only dog I know that actually lies down on the floor to watch TV. Forget it if an animal (any animal!) comes on the screen; he jumps right up and stands nose-to-screen.

Paula Deen's Chocolate Bread Pudding
1-pound loaf French or Italian bread, cut into cubes (about 15 cups)
3 cups milk
1/4 cup heavy cream
1/2 cup coffee-flavored liqueur
1 cup granulated sugar
1 cup packed light brown sugar
1/4 cup cocoa powder
2 tablespoons vanilla extract
2 tablespoons pure almond extract
1 1/2 teaspoons ground cinnamon
6 large eggs, lightly beaten
8 ounces semisweet chocolate chips
Preheat the oven to 325F. Lightly grease a 13 by 9-inch baking dish. Place the bread in the baking dish. In a large bowl, whisk together the milk, cream, and liqueur. In another bowl, combine the granulated and brown sugars with the cocoa powder and mix well. Add this to the milk mixture and whisk to combine.
Add the vanilla and almond extracts and the cinnamon to the beaten eggs. Combine the egg mixture with the milk mixture and mix well. Stir in chocolate chips. Pour the mixture evenly over the bread cubes; let stand, stirring occasionally, for at least 20 minutes, or until the bread has absorbed most of the milk mixture. Bake the pudding for 1 hour, or until set; a knife inserted into the center of the pudding should come out clean. Serving the pudding warm, or refrigerate it and serve chilled. Serve it warm or cold, with whipped cream or a dessert sauce.
Jugged Chicken
1 3-1/2 pound chicken (use thighs and drumsticks)
2 tablespoons unsalted butter
1 jar pearl onions (in canned vegetable aisle)
4 medium tomatoes, coarsely chopped
8 oz prosciutto, chopped
2/3 cup dry white wine
1/2 cup golden raisins
1/3 cup Port
1/3 cup brandy
4 garlic cloves, thinly sliced
1 tablespoon Dijon mustard
1/4 teaspoon ground pepper
Preheat oven to 400. Rub chicken with butter and season inside and out with salt and pepper. Transfer chicken to large, heavy, deep casserole. Combine onions and all remaining ingredients in large bowl. Pour over chicken. Cover and bake until chicken is done, about 55 minutes. Serve in bowls with crusty bread; white rice makes a great side dish, using the extra juices from the chicken.
**I don't always have Brandy on hand, and in cases like that, I just add extra of the other alcohol, and it still tastes great.
Mom's Cranberry Bread
2 cups flour
1 1/2 teaspoons baking powder
1/2 teaspoon baking soda
1/2 teaspoon salt
1 cup sugar
1 cup cranberries — Fresh or frozen; washed and chopped or halved (I used dried)
1/2 cup chopped nuts
1 beaten egg
3 tablespoons oil
1 cup orange juice
Preheat oven to 350 degrees. Sift dry ingredients together. Add cranberries and nuts. Mix eggs, orange juice and oil in a bowl; add to dry ingredients, cranberries and nuts. Mix slightly. Bake in greased loaf pan for one hour.