Another ARF/5-A-Day is here and tonight brings no shortage to inspiration for ARFs, fruits and/or vegetables.
The Husband grilled some chicken before I got home, so I made quick work on finding a vegetable. I had a bunch of fresh asparagus in the refrigerator and turned to AllRecipes to find something. I've found that most of the recipes there are very quick to make, usually make good use of ingredients you have on hand already, and the reviews are very helpful. It's a great go-to site when you don't have the time to browse your cookbook collection leisurely. I ended up going with Sauteed Garlic Asparagus and it was really buttery and flavorful. Prone to usually roasting, this was a new method of cooking asparagus for me, and I'd definitely make it again. And speaking of asparagus, this makes a great entry for Kevin's Asparagus Aspirations roundup. For a cocktail, 'cause it was just that kind of day, I made another new recipe, Red Frozen Lemonade. You can read a brief write-up I did here on Paper Palate, where we're kicking off the summer season all week. I tried to entice The Neighbor down to share in the libations, but errands beckoned. No matter, I have officially found my new summer drink of choice.
On with your round-up. Until tomorrow…
A year ago today … C is for cookbooks, cheese and Cuban stuff!
Sauteed Garlic Asparagus
Cook Time: 20 Minutes
Ready In: 30 Minutes
Yields: 4 servings (ha! I ate it all myself!)
3 tablespoons butter or margarine
1 bunch fresh asparagus
3 cloves garlic, chopped
Melt the butter or margarine in a large skillet over medium-high heat. Add the garlic and asparagus spears; cover and cook for 10 minutes, stirring occasionally, or until asparagus is tender. If you like your asparagus well done, reduce heat and cook an additional 10 minutes.
The Cookbook Junkie is back with us again, this time with her Artichoke Salsa:

This delicious Tomato and Spinach Rice comes to us from Salt and Pepper:

We visit exotic locales with Albion Cooks' Moroccan Vegetable Tangine with Couscous:

The Spice is Right serves up Pasta with Three Tomatoes… mmm, looks delicious!

By way of Kansas, we have Eating for One's Quinoa and Black Beans:

Cascading Flavours shares Two Tomato Jam:

Sometimes simple is best and Kalyn proves that with her Arugula and Gorgonzola Salad with Balsamic Vinegar:

Like corn? Then you'll love this contribution from Blog Appetit about her Summer Farm Stand Soup:

Our Resident Veggie Evangelist checks in with a Broccoli Salad with Olives:

Food, In the Main from the UK is back with Kabuli Chana Chawal (Rice with Chickpeas). I am SO making this!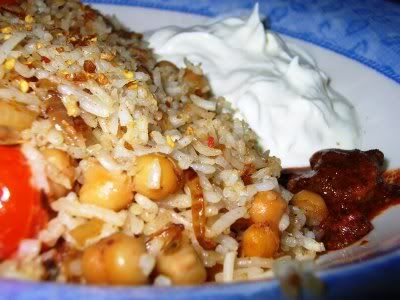 Germany's Happy Burp stops by with her Flower Matar cha Rassa (cauliflower & green peas cooked in a green gravy) – these dishes are getting more exotic with each entry!

It's veggie galore with Saffron Trail's Tricolour Tarts:

What's for Lunch, Honey? sent in the divine looking Chocolate Chip Crumble before dashing off on a trip:

A Blog from Our Kitchen introduces her readers to Swiss Chard. Check out her site for a good tutorial.
And lastly, Food for Thought finishes up our roundup with her Mixed Lentil Pancakes with Green Tomato Chutney, a great way to end this week's edition.

Hot Health Hint: These days, a lot of people reach for a slice of toast with their breakfast, but is that really a good choice. Experts say no. From Good Housekeeping magazine, "Most bread lacks adequate levels of the B vitamins you need (thiamin, riboflavin, niacin and folic acid) to build serotonin, the neurotransmitter that keeps you calm and happy. Your breakfast should deliver 10 percent of the daily value of thiamin, riboflavin, niacin and folic acid, says dietitian Lisa Dorfman, R.D., a food and mood expert. The amounts of these B vitamins vary by brand, so look carefully at labels. Some breads containing nuts are higher in Bs, as are some that list 'whole grain' in the ingredients. If your bread doesn't supply enough Bs, chase your toast with fortified orange juice or switch to fortified cereal ?- many provide at least 25 percent of these B vitamins."