Hit a ridiculous amount of traffic on the way home today, and just wanted to make something simple for dinner tonight. I seriously debated getting take-out, but decided that in light of a well-stocked kitchen, I should just suck it up.
I ended up making Lemon Spaghetti, a house favorite, and a new recipe from Tyler Florence as my ARF/5-A-Day contribution, Grilled Brie and Tomato on Crusty Bread. I bought a large container of vine-ripened tomatoes from Costco last week and a wheel of Brie, and this made a good use of both items. A very quick appetizer, the only thing I did differently was to add a bit of salt and pepper to the tops of the completed toasts. I'd definitely make them again, but I'm a sucker for melty cheese. ;) A great way to make use of your summer bounty of tomatoes. Onto the roundup…
First up tonight is Urban Drivel's Chili with Ground Chicken… awesome tummy-warming food!

Kalyn from Kalyn's Kitchen pops in with a delicious summery salad and a timely post on gift ideas for your kids' favorite teachers: Bacon, Lettuce and Tomato Salad:

Jennifer from The Weekly Dish has a great rise-and-shine treat for us with her uber-healthy muffins filled with carrots and apples.

Food, In the Main drops by with an Easy Bell Pepper Curry. Anything that starts with the word "easy," I am so there.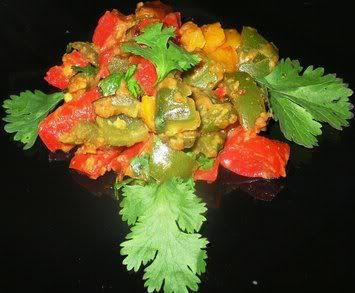 And speaking of easy, it looks like Albion Cook's Red Bean Bourguignon fits the bill as well:

Delicious veggie-overload alert with Kitchenmate's Spicy Mushroom Ravioli with Mixed Veggies in Tomato Sauce:

Mmmm, I haven't had couscous in ages, but it looks like the one from What's for Lunch, Honey? is a great place to start up again:

All the way from Germany, it's Happy Burp's Toasted Sandwiches with Cabbage Bhaji:

With a dessert called "food of the Gods," how can you not gravitate towards Cooking Medley's amrutham?

Fresh from birthday celebrations, it's Julie from The Suburban Apron Company with the very healthy Green Tea Shortbread Leaves:

Our popular bachelor, Anthony, drops by with his Aloo Bhindi Subjee:

Another scrumptious-sounding curry for this week, it's Manpasand's Cabbage and Carrot Curry:

With a delicious twist, Gabriella from My Life as a Reluctant Housewife shares her Strawberry Vinaigrette:

Another newcomer, Nila pops by with a very hearty Spicy Chicken Soup:

Denise from What I'm Cooking Now in Georgia contributes her Lubiyeh (Lebanese String Beans with Tomato and Olive Oil):

And last, but not least, Cucina Bella squeaks in with her Grilled Herbed Carrots, perfect for the Summer:


OK folks, that's your roundup for this week. Tons of inspiration, from the easy dishes to recipes perfect for Summer grillin'.
Until tomorrow…
Grilled Brie and Tomato on Crusty Bread
Recipe courtesy Tyler Florence
1 pint cherry tomatoes
2 tablespoons extra-virgin olive oil
Kosher salt and freshly ground black pepper
3 tablespoons unsalted butter, softened
6 (1/2-inch thick) slices crusty bread
1/2 pound brie, sliced thin
Heat the broiler. Put the cherry tomatoes onto a baking sheet, drizzle them with olive oil, and season them with salt and pepper. Broil them until they burst; set them aside. Butter the bread on both sides and top each with several slices of brie. Broil until the cheese is bubbling and slightly browned. Top with the tomatoes. Serve immediately.