Like a spin on Brillat-Savarin's old adage, "Tell me what you eat, and I'll tell you what you are," my call to throw open the doors of your fridge garnered replies from as far away as Spain, Germany and The Netherlands, and respondents from my home state as well. It was really interesting to see what everyone is hoarding … gourmet mustards, glorious rich cheeses, umpteen salad dressings, veggies and fruits galore and stuff I've never even heard of. Thanks to all who sent in their pictures and their witty commentaries (nearly 30 of you!) … do check out their individual websites for more snaps and the juicy lowdown on what you're seeing below.
The I'll Show You Mine If You Show Me Yours event is a series, and next up … your spices. Whether you have a spice rack, shelf or closet, take a picture and send it in. I'll be doing this series monthly, so you have all the way until June 30th to get your picture and permalink in to me. The roundup for I'll Show You Mine If You Show Me Yours #2 will be posted on July 1. Now on with the show…
Bonus points for the first entry received, straight from New York, New York, Kate from Pie in the Sky even scored a one-on-one interview her fridge!

Next up is an entry from The Netherlands' Look Hunny, I Cooked. Here's a peek at one of Catesa's shelves — go check out her site to check out all the others. Frites lijn? Kwark?

Bob from South Jersey's eCache gives us a looksee – check out that monster soda bottle!

Moon from Peanut Butter Etouffe has some very cool doors on her fridge, and what's that … two different kinds of HP sauce?

Not to be outdone, it's Maltese Parakeet, also from Peanut Butter Etouffe:

And the last of the Peanut Butter Etouffe trio, it's Doodles with a sad empty one… sniff, sniff … well, as you'll see in a minute, she's not alone…

Next up is a new-to-me blogger, it's Making Food, Eating Food. Go check it out – quite the Fruit and Produce Queen!

Uber-organized Anna from Morels and Musings gives us a list of what's in her fridge – Wow!
Sylvia from Soul Fusion Kitchen in California just might have the most unusual mix of items in her fridge … capsaicin, roux and miso. There's three things you don't see together too often.

Nerissa from Deetsa's Dining Room has two kinds of seaweed, a few versions of miso and every kind of pickle under the sun!

Gabriella from My Life as a Reluctant Housewife has babies covered, complete with adorable baby pictures on the front of the fridge and Sippy cups; no wonder she's hosting the new Weekend Baby Blogging event.

Poor Biggles, the Meat God from Meathenge… an empty, broken refrigerator. But think what fun it will be do fill it all up again!

Kalyn from Kalyn's Kitchen bares her shelves. Check out the South Beach-friendly cheese shelves:

Sara from I Like to Cook in Canada throws open the doors and shows us the goods. Frappuccino mix? I want to know more about that! I'd love to be able to make Frappuccinos at home, but have yet to find a mix…

Lea from Copperpots takes the baton next with her fridge full of Asian goodies:

Before catching a flight to NYC, Sam from Becks & Posh gave us a peek. Not only that, she gave us a whole Flickr set! With her cornichons (love them!), amazing cheese selections and bottles of wine, I hope someone's eating all this good stuff while she's away.

Live the Life, Vegan Style has to get the award for most salad with her collection:

Germany checks in with Kuchenlatein. Ulrike is quite organized with her refrigerator. Now, what's pilaw?

Erika from Tummy Treasures in Wisconsin has lots of yummy and delicious goodies … Cashew Butter, Blonde Greek Olives, Pickled Jalapenos, Pickled Habaneros, Red Curry Paste, Country Olive Mix (Erika, what's this?):

Food, Glorious Food is all set for an impromptu party with her cheese and olive shelf alone!

Chili and Ciabatta pops in for her unveiling… she has variety covered, complete with six different mustards, four sourdoughs and rhubarb juice!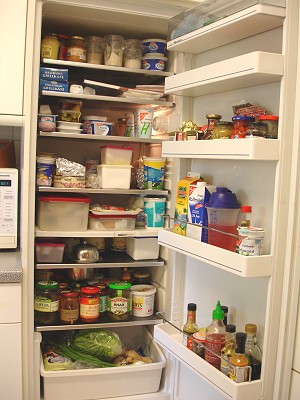 Zorra from 1x umrühren bitte in Andalucia, Spain … although I can't read a word of her yummy blog (except this entry), I know delicious looking produce when I see it.

Sarah from Cucina Bella not only shows her fridge, but her adorable baby! So nice of him to hold the door open for us. :)

It's Hold the Raisins' turn next … check out her site for her amusing commentary on veal stock and bacon fat. In the meantime, I wanna know what that green liquid is on the top shelf! And, ahem, Peeps? In June?

Jocelyn from She Spills the Beans – six pounds of cherries?! Wow!

The Kitchen Wench has a fridge Nicholas would LOVE – with all those apples, he would be blissfully happy for hours on end.

And lastly, my own fridge. The three things you'll always find in there? Nicholas' yogurt and yogurt drinks, Spanish green olives and POM juice. What you'll never find in there? Veal, fizzy water (unless my family is coming over) and tofu (blech!). We actually have three refrigerators … another one in the basement for drinks and overflow when entertaining, and a small one upstairs in my office, to save countless trips to the kitchen for Nicholas' whims.

Appropriate for today's round-up, I found an article on the She Knows Network with all sorts of tips about how to arrange things in your refrigerator, what to keep where, etc. Check it out.
OK, folks, that's a wrap for tonight. Tune in tomorrow for my regular Weekend Dog Blogging roundup, and hopefully opening day of our Farmers Market (!) and a local festival if the rain stops long enough. Until then…
A year ago today … the $9 burger.