First, we're going to go back in time, way back … all the way to this past Friday when I forgot to wish my Sister-In-Law a very Happy Birthday! Totally blanked and am hoping that a homecooked dinner this weekend will make it up to her. Yikes!
Happy Father's Day to all who celebrated it today. Luckily, The Husband was feeling a smidge, and believe me, just a smidge, better, so was actually able to moderately enjoy his special day. I convinced him to stay home from work tomorrow, so I'm hoping another day of rest will do it.
We went to my parents' house to for a mid-afternoon dinner, and since my Mom pulled a nerve in her back the other day (it was certainly a week for doctor visits!), she took it easy and ordered the main course from a local restaurant. Like Rachael Ray says, "Take the help when you need it." I contributed dessert, making a new recipe from Entertaining with The Sopranos. With my Dad being a confirmed Chocoholic, I figured this would do the trick nicely. The recipe was certainly simple enough, and tasty, just not a WOW for me. You can read a more complete review I did on the cookbook here. And speaking of Rachael Ray, my Mom made one of her desserts, Mini Italian Mud Pies. With today's temperature of 95 degrees, they definitely have to be eaten fast, but with a warm layer of Nutella on the bottom, how can you go wrong?
Later in the week, when The Husband is back to feeling 100%, we'll do a special Father's Day dinner here for him, and I already know exactly what dessert I'm going to make … but you'll have to stay tuned for that. And now, on with the Weekend Dog Blogging roundup:
The beautiful Hugo from A Self-Proclaimed Foodaholic:

Uh oh! Poor Mr. Woofy is in trouble. Check out The Kitchen Wench to find out why:

Little Willie from Eating for One is ready for a summer game of frisbee: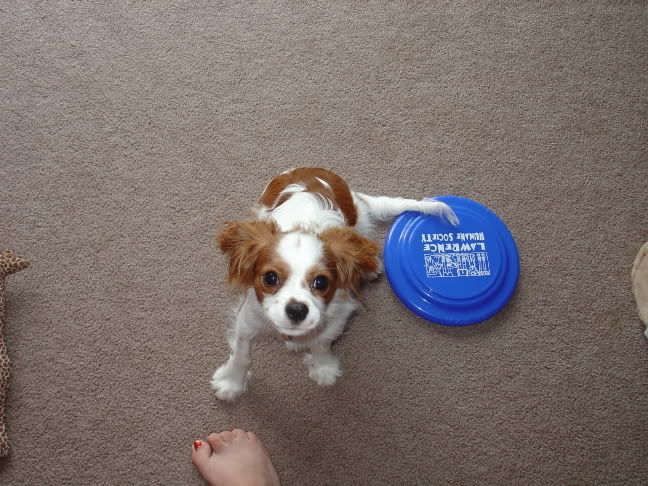 The adorable Puccini pops in from What I'm Cooking Now in Georgia:

Newcomer Tippy from Tartelettein South Carolina:

The long-lost Harley from Speculating Musing stops by for a visit – looks like he's been busy!

Ziggy from Soul Fusion Kitchen is feeling the Los Angeles heat. We hit 95 here today, so I can totally sympathize:

A great action shot of Simba from Up a Creek Without a PatL in New Hampshire:

The curly-haired Gino from The Flying Apple in Austria checks out the view:

The Dispensing Happiness trio from Tennessee fighting for couch space:

It seems like Lucky Buddy Bear's work over at Farmgirl Fare is never done … but he sure looks like he's enjoying himself!

That's a wrap for tonight's round-up folks. Tune in tomorrow for a Pampered Chef update and tips on getting groceries for free – weekly! Until then…
A year ago today… another magazine haul.