Today it is my pleasure to host Kalyn's Weekend Herb Blogging, which goes on the road every other weekend. All I can say is, it's a good thing Kalyn doesn't have a dog because that's how this whole thing got started. It's a big recap, so I'll save my other ramblings for tomorrow, that way we can get started right away. And we're off…
Utah: Kicking us off this week … I always wondered about freezing herbs, and this week, the wonder that gave us Weekend Herb Blogging gives a great tutorial. Thanks, Kalyn!


St. Louis, Missouri: Our resident Veggie Evangelist pops in with a bit 'o butter. Everything tastes better with butter, right? Check out her New Potatoes with Browned Butter. Yum!


France: The lovely Riana checks in with a glorious shot of lime flowers. They have wonderful medicinal uses – she's going to have fun with these:


Canada: Ivonne gets a jumpstart on the weekend with her drool-inducing Pizza with Caramelized Onions and Sage. This is the first time she's participated in Weekend Herb Blogging, and she's off with a bang – scrumptious!


New York, New York: The Chocolate Lady drops by with some glorious chard that she magically turns into Fedelini with Walnuts, Chard and Garlic Scapes:


The Beach, California: Gabriella from My Life as a Reluctant Housewife contributes a lovely summery dish with her Paparadelle with Lemon Butter Chive Sauce:


Toronto, Canada: Ruth from Once Upon a Feast gives us plenty of menu planning ideas and her recipe for Tomatoes with Goat Cheese and Fresh Basil … mmm, love, love, love the smell of fresh basil!
Sunnyvale, California: My Bay Area Kitchen gives a very helpful tutorial on cooking with Swiss Chard:


Salt and Pepper: As part of the Green Blog Project, Salt & Pepper has recently planted some methi and serves up Fish with Baby Methi, fresh from the garden.


Washington, DC: Christa from Calendula & Concrete uses fresh dill from her garden to bake up a savory Swedish Dill Bread – sounds divine!


New York City and India: Nupur from One Hot Stove joins in her first Weekend Herb Blogging and has a real treat for everyone. She takes us on a tour of a vegetable market in her hometown of Kolhapur in India. Be sure to stop by her site and check out all the other beautiful photos, one more stunning than the next.


Melbourne – Ed from Tomato squeezes in a beautiful shot of a plump orange in between the start of World Cup Football (and FIFA Beer World Cup on his site) and the Queen's Birthday Weekend:


New Jersey (yay!): Gattina shares a decadent Baked Shallot and Pineapple Rice. I love how easy the recipe looks!


Southern California: From Serentipitous Chef, we get a wonderful history and cooking lesson on all things radishes:


Melbourne, Australia: Cooking (almost) Anything Once delivers a beautiful Mixed Bean Salad with Walnut Dressing. In the words of Rachael Ray … yum-o!


Channel Islands: Now here's something completely new and different. Mae from Rice & Noodles sends in her Lavender Orange Lush – looks completely delectable! Growing up, we spent two years living in England, and one of the memories I have from the house we lived in were the glorious lavender bushes in the backyard.


California: I've never had polenta before, but with a picture like this, I could definitely change my mind! Sher from What Did You Eat? contributes her Polenta Gratin with Spinach and Wild Mushrooms:


Sydney, Australia: Morels and Musings has her herbs more than covered with her Sardines en Escabèche, a delicious-looking Spanish and Provençal dish featuring rosemary, thyme, parsley and bay. Make sure to check out her website for a terrific primer on bay leaves.


Italy: The Kitchen Pantry uses herbs in her kitchen to make a wonderful Herb Focaccia; I can just about envision how heavenly her kitchen must smell with that bread baking!


Italy: Ilva from Lucillian can definitely be a food stylist in her next life. Check out her site for her Tuscan-inspired recipe for Snake Beans with Tomato, Leek and Oregano:


Argentina: The fine gent from Salt Shaker has his way with a bit of chicken, miniature potatoes and green garlic: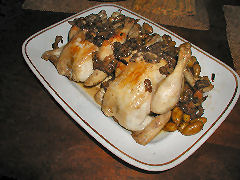 Pennsylvania: 28 Cooks has definitely seized on something that I know we're going to love with this entry of Pizza with Caramelized Leeks, Grilled Pears and Bleu Cheese. Wow. Just wow.


Missouri: With a unique twist on Weekend Herb Blogging, Farmgirl asks her readers for suggestions on what to do with her Lemon Thyme plant, and now she's got tons of terrific suggestions to try out.


San Francisco, California: Sean from Hedonia contributes a delicious-sounding Pasta alla Franca, and with the fresh oregano and thyme, it's a perfect fit for WHB.


Nantes, France: Virginia from Absolutely Green entices us with her Nettle Spread with the fragrant additions of sage and thyme:


Iowa City, Iowa: One of my favorite herbs, sage, is highlighted again this week with Genie's Pasta with Butter-Sage-Parsley Sauce – oh man, does that sound heavenly. So much for whittling down my "to try" pile – the printer is working overtime!


Germany: Küchenlatein thinks that mint is easy to grow – ha! She hasn't been to my garden! :) I do ok with cilantro, basil and chives, but, alas, no mint. Good thing she has a green thumb enough for both of us, as she turns out Broad Bean and Mint Mash:


And last, but not least, my own contribution. I pulled a recipe from a Food & Wine magazine from last summer, and made Seafood Paella with Spinach and Arugula. Once I saw the ingredient list included arugula, I knew it would be perfect for tonight. Fastest paella I've ever made, and it was delicious, right down to the last-bit-of-sauce-mopped-up-by-hot-crusty-bread. Do try it if you get a chance.


Okay folks, that's a wrap for tonight. Tune it tomorrow to see the latest magazine haul – it's a good one.
Until then…
Seafood Paella with Spinach and Arugula
Courtesy of Food and Wine magazine
TOTAL TIME: 30 MIN
SERVES: 4 TO 6
Quick-cooking Bomba rice has a distinctive chewiness that's perfect in recipes like Amaryll Schwertner's outrageously crusty and very fast seafood paella.
1/4 cup extra-virgin olive oil, preferably Spanish
1 bunch scallions, white, light-green and dark-green parts, thinly sliced (1 1/2 cups)
4 packed cups baby spinach and arugula (6 ounces)
2 cups Bomba rice (15 ounces) (I used regular short-grain rice)
7 cups low-sodium chicken broth (I used vegetable broth)
1 medium tomato, seeded and diced (I used one can, drained, diced tomatoes)
1/2 teaspoon smoked paprika
1/4 teaspoon saffron threads, crushed and mixed with 1 tablespoon water
Kosher salt and freshly ground pepper
1 pound peeled and deveined medium shrimp
1 pound mussels, scrubbed (I doubled)
Heat the olive oil in a deep 12-inch skillet. Add the sliced scallions and cook over high heat for 1 minute, until barely softened. Add the spinach and arugula and cook, stirring, just until wilted, about 2 minutes. Add the rice and cook, stirring, until it's coated with the olive oil and the grains begin to turn a milky-white color, about 3 minutes.
Stir 3 1/2 cups of the broth into the rice. Add the tomatoes, paprika, saffron, water, 1 tablespoon of kosher salt and 1/2 teaspoon freshly ground pepper; bring to a boil. Cook the Bomba rice, tomatoes and greens over moderately high heat, stirring occasionally, until some of the chicken broth has been absorbed, about 5 minutes.
Add the remaining 3 1/2 cups of broth and cook over moderately high heat, without stirring at all, until the level of liquid is just under the surface of the rice, about 8 minutes.
Working quickly, arrange the shrimp and mussels on top of the rice, tucking them slightly under the surface. Continue cooking over moderate heat just until the shrimp curl and turn pink, the mussel shells open and the rice is tender and starting to sizzle and form a crust on the bottom of the skillet, about 10 minutes longer. Serve the paella at once.