With the extra day before the roundup, I managed to get in three new recipes for tonight's ARF/5-A-Day. But as they say, "life uncertain, eat dessert first." When I first spied Kate's Coconut Lime Bars, my mouth started watering … and since it was 10:30 at night, that was definitely a good sign. Well, a good sign for the picture she posted, for sure, but not a good sign for the cravings that ensued! Needless to say, I made them and they were downright delicious. Creamy with the sharp recognizable tang of lime, there's no mistaking the flavors in this one. Yum.
I have my days all screwed up tonight and forgot The Husband was working late – oops. Of course I didn't remember until AFTER I had arrived home from the grocery store with the ingredients for tonight's dinner. Probably just as well, since he wasn't going to like the meal, and I was heating up leftovers for him anyway. I digress. I have had a craving for a Tortellini Salad for a few days now, and happened upon a new recipe for it on the Cooking Light web site. And then I found a recipe for Blue Cheese Coleslaw. To tell you the truth, I wasn't sure I was going to like that one … blue cheese? Mustard? Coleslaw? An odd combination, but believe it or not, it worked. I'd definitely make it again. The Tortellini Salad was good, but nothing special. You win some, you lose some. Onto the roundup for tonight…
On tap for tomorrow … Loose Ends
A year ago today … one of my favorite cakes.
The Chocolate Lady in NYC always manages to send new recipes for things that I've never even heard of, and this week is no exception with her Beet Palyaa.

Saffron Trail shares her very antioxidant-rich Pomegranate Rasam – beautiful color!

The perfect patriotic contribution comes by way of Fat-Free Vegan with Susan's Red, White and Blue Terrine:

Germany is up next with What's for Lunch, Honey? and her Risotto ai funghi e prezzemolo from Jamie's Italy. I have the cookbook (not yet available in the US, but can be ordered from Amazon's UK site), but haven't made anything from it yet – this is certainly great motivation – looks divine!

A newcomer to ARF/5-A-Day, Chez Megane serves up the very hearty Provencal Pasta, complete with tomatoes, zucchini, mushrooms, peppers and more.

Ramya from Cascading Flavours and a Tofu Marinade with ginger root, turmeric, cumin, pomegranate juice and other goodies.

To the Tooth from Maryland shares a seven vegetable medley called Ezhu kari kootu (seven vegetables!).

Food, In the Main from the United Kingdom introduces us to a unique Minty Fresh Pea Pod Soup: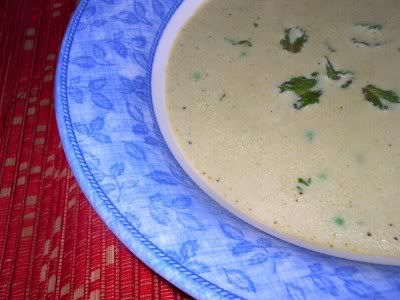 Another newcomer, Claire from Cooking is Medicine makes a recipe with another antioxidant-rich fruit — blueberries. Check out her Blueberry Muffins that got an enthusiastic thumbs-up from her Dad!

Gabriella from My Life as a Reluctant Housewife and a summery White Bean Salad that is kid-approved:

Julie from The Suburban Apron Company has success with Martha Stewart's Crustless Broccol-Cheddar Quiches:

Cantaloupe and Gorgonzola? Yup. Doodles does it from Peanut Butter Etouffe:

Coconut Lime Bars
Recipe courtesy of Accidental Hedonist
1 cup sweetened shredded coconut
1 1/2 cup All-Purpose Flour
1/2 cup powdered sugar
10 tablespoons chilled butter, unsalted and cut into pieces
2 14 oz. cans sweetened condensed milk
6 eggs yolk, from large eggs
1 cup key-lime juice
4 teaspoons key-lime zest
Pre-Heat oven to 350 degrees F.
Spread coconut on a baking sheet and toast until golden brown, 6 to 8 minutes, tossing every 2 minutes. Remove from oven and set aside.
In a medium mixing bowl, combine flour and sugar. Add half the coconut to the mixture. Cut in butter until mixture resembles a coarse meal roughly pea-sized. Pat mixture into a 9-by- 13 inch pan and bake for 20 minutes. Remove from oven and allow to cool.
In a different mixing bowl, beat together egg yolks and condensed milk. Whisk until thick. Slowly add in lime juice and zest.
Pour onto crust, sprinkle with remaining coconut, and bake for 7 minutes.
Cool completely, then chill until ready to serve.
Serves 12
Spring Tortellini Salad
Recipe courtesy of Cooking Light April, 2001
INGREDIENTS FOR 6 SERVINGS:
Dressing:
1/4 cup red wine vinegar
2 tablespoons extra-virgin olive oil
4 teaspoons spicy brown or Dijon mustard
2 teaspoons fresh lemon juice
1/2 teaspoon salt
1/4 teaspoon freshly ground black pepper
4 garlic cloves, minced
Salad:
1 (9-ounce) package fresh cheese tortellini, uncooked
2 cups frozen medium shrimp
3/4 cup thinly sliced carrot
2 cups finely chopped tomato
1 cup frozen green peas, thawed
1/2 cup finely chopped red onion
INSTRUCTIONS:
Any fresh vegetables can be used here. The flavor is best if you chill the
salad for 30 minutes before serving.
To prepare dressing, combine first 7 ingredients in a small bowl, and stir
well with a whisk. To prepare salad, cook tortellini in boiling water for 6 minutes. Add shrimp and carrot; cook 3 minutes. Drain well. Combine pasta mixture, tomato, peas, and onion in a large bowl; pour dressing over salad, tossing gently to coat. Cover and chill 30 minutes. Yield: 6 servings (serving size: 1-1/3 cups).
Blue Cheese Coleslaw
Recipe courtesy of Sara on All Recipes.com
Rated: 4 out of 5 by 24 members Prep Time: 10 Minutes
Ready In: 10 Minutes
Yields: 12 servings
"This crunchy slaw bursts with flavor. Shredded cole slaw mix is perked up by the delicious pairing of red grapes and a tangy, blue cheese speckled dressing."
INGREDIENTS:
1 (16 ounce) package shredded coleslaw mix
2 cups seedless red grapes, halved
1/2 cup shredded carrot
1 cup mayonnaise
1/4 cup prepared Dijon-style mustard
1/3 cup crumbled blue cheese
2 tablespoons white sugar
2 tablespoons cider vinegar
In a large bowl, whisk together the mayonnaise, mustard, cheese, sugar and vinegar. Add the coleslaw mix, grapes and carrots and stir until evenly coated. Chill until serving.