It always amazes me how many different recipes you can come up with purely by using ingredients you have on hand already. I made three new recipes tonight and didn't have to set foot in the grocery store. It's an added bonus that I can attack my pantry a bit.
For tonight's dinner, I had to make something with tomatoes, and ended up using them in two recipes. I had a plethora from a Costco trip last week, and then more from the Farmer's Market. Ripe, juicy tomatoes are perfect, but they spoil fast, too fast. For our main course, I went with a Scampi Pasta recipe that I found in a current issue of Quick and Simple magazine (a division of Good Housekeeping). Quick, quick, quick to put together, it was tasty and made use of both the fresh basil and tomatoes that I picked up at the Farmer's Market this past weekend.
As a side, I made Garlic-Crumbed Tomatoes. Another easy one, it's a good thing it's a small recipe, since Nicholas wouldn't touch them, and The Husband only had one half. All in all, a perfect meal for a weeknight; it was on the table in under half-an-hour and made good use out of fresh Summer bounty.
Haven't made cookies in awhile, so pulled out a new recipe from Midwest Living magazine and went with Peanut Butter and Oatmeal Rounds, which I'm renaming Peanut Butter, Chocolate & Raisin Cookies. They are nice and crispy on the outside and slightly softer on the inside. Recipe says it yields 60, yet I was lucky to get 42 out of it. Not a wow, but tasty nonetheless.
Alright, enough about what I cooked … onto the ARF/5-A-Day roundup. Until tomorrow…

A year ago today … one of our favorite salad dressings.
Erin's Kitchen in California takes advantage of Summer's bounty with her Roasted Tomato, Bell Pepper and Corn Salsa:

Ashwini from Food for Thought keeps her kitchen cool with Chilled Radish Soup:

Stuffed Peppers make an appearance in Claire's Cooking is Medicine site:

Zucchini and Mushroom Pizza Topped with Squash Blossoms & Pine Nuts makes an appearance in the kitchen of Albion Cooks.

The Cookbook Junkie does Couscous with her summer version:

The Cook's Hideout serves up a very hearty Kabuli & Kala Chana Rice with onions, tomatoes, potatoes and more:

Calling all cilantro lovers … Kalyn's Black Bean and Pepper Salad with Lime and Cilantro sounds perfect for this h-o-t, h-o-t weather.

Food, In the Main gets creative with her Zucchini Kootu – looks delicious!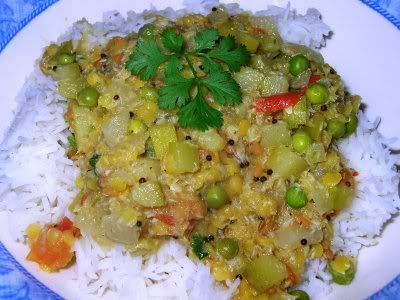 Meeta from What's for Lunch, Honey? goes the sweet route with Chocolate Mountains:

From My Kitchen to Yours makes fresh-from-the-garden Tabbouleh:

Frugal Cuisine pairs sweet and savory with her Blueberry Soup with Polenta and Chevre:

Doodles from Peanut Butter Etouffee shares her Blueberry Nut Bread:

Cheryl from Free Range Living in Canada goes granola:

Patti from Adventures in Food and Wine in Indiana makes a Rachael Ray recipe with her Chipotle Glazed Chicken, loaded with fresh vegetables:

Susan from Fat-Free Vegan Kitchen goes cajun with her Black-Eyed Pea Gumbo:

And lastly, Happy Burp in Germany finishes us off this week with her Spiced Chick Peas and Vegetables for Couscous:

Scampi Pasta
Recipe courtesy of Quick & Simple magazine
Serves 4
Melt 4 tablespoons butter in a large skillet over medium heat; stir in 2 teaspoons lemon-pepper seasoning and 1/2 teaspoon garlic powder (I used fresh, minced garlic). Add 1 lb thawed, frozen shrimp and sute until pink, stirring occasionally. Stir in 1 medium tomato, cut into wedges. Sprinkle with parsley (I used basil instead) and serve over buttered pasta (I didn't add extra butter to the pasta).
Garlic-Crumbed Tomatoes
Recipe courtesy of Quick & Simple magazine
Serve 4
2 tablespoons butter
1 clove garlic, minced
1/2 cup bread crumbs
1/4 cup loosely packed fresh parsley or basil leaves (I used basil)
1/4 cup grated Parmesan cheese
1/4 teaspoon salt
1/8 teaspoon ground black pepper
2 large ripe tomatoes, cored and cut crosswise in half
Arrange rack in upper third of oven. Preheat oven to 425F. Mist a baking sheet with nonstick cooking spray. In a 10-inch skillet, melt butter over medium heat (I nuked in microwave). Add garlic and cook for 1 minute, or until fragrant, stirring. Remove skillet from heat; stir in bread crumbs, parsley or basil, Parmesan cheese, salt and pepper until mixed. Place tomato halves, cut sides up, on prepared pan. Top tomatoes with crumb mixture. Roast for 15 minutes, or until tomatoes are heated through and topping is golden.
Peanut Butter and Oatmeal Rounds
Recipe courtesy of Midwest Living
3/4 cup butter, softened
1/2 cup peanut butter
1 cup sugar
1/2 cup packed brown sugar
1 teaspoon baking powder
1/2 teaspoon baking soda
2 eggs
1 teaspoon vanilla
1-1/4 cups flour
2 cups rolled oats
1 cup chopped peanut or chocolate chips (I used half chocolate chips, half raisins)
Preheat oven to 375. Beat butter and peanut butter with an electric mixer on medium speed for 30 seconds. Add the sugars, baking powder and baking soda. Beat until combined. Add eggs and vanilla. Beat in as much of the flour as you can with the mixer. Stir in remaining flour with a wooden spoon (I mixed all with mixer). Stir in rolled oats and peanuts and/or chocolate pieces.
Drop dough by rounded teaspoons 2 inches apart onto ungreased (I sprayed with non-stick spray) cookie sheet. Bake in preheated oven for 10 minutes or until edges are lightly browned. Transfer cookies to wire racks; cool. Makes about 60 cookies (I got 42).