I had a loose plan for dinner tonight … using the panini maker and items from my pantry. Simple enough, right? For the paninis, I kept it real basic. I used a loaf of sourdough bread, and then layered it with slices of ultra-fresh mozzarella, thinly sliced prosciutto, fresh basil from the Farmer's Market, salt, pepper and a drizzle of balsamic vinegar. The secret to crispy bread is to drizzle the bread with a little bit of olive oil before putting it into the panini maker. I added mushrooms to mine for an extra veggie boost. So, so good, and can't get simpler than that. A perfect weeknight meal, but not my ARF/5-A-Day contribution. For that, I went with a new-to-me Rachael Ray recipe, Chickpea and Rosemary Dip from her GetTogethers cookbook. A unique twist on something along the lines of hummus, I liked the added twist of roasted red peppers. I'd definitely make this one again, and it's a nice recipe to have in your repertoire as a pre-dinner munchie for unexpected dinner guests.
OK, on with the show. Until tomorrow…
A year ago today … sinfully delicious sandwiches.
First up in tonight's ARF/5-A-Day roundup is Sarah from Cucina Bella in Connecticut with her unique twist for a pasta sauce … Kale and Red Pepper Sauce:

The Cookbook Junkie from Pennsylvania tackles one of Nicholas' favorite vegetables … the cool cucumber:

Catherine from Albion Cooks puts her Farmer's Market bounty to work with her Vegetable Fried Rice with Chinese Long Beans. She even snuck some tofu in there.

Kalyn, the Queen of Weekend Herb Blogging, only had to go as far as her garden for the ingredients in her Ratatouille Wanna-Be:

The Chocolate Lady from NYC goes sweet this week with her contribution, Pound Cake with Plums:

Chez Megane in Paris serves up breakfast with her Fluffy Light Blueberry Pancakes … plenty of antioxidants there!

What's for Lunch, Honey? shares a delicious meal of Chicken Curry in Sate Sauce, using ingredients in her pantry and her imagination.

Food, In the Main from the UK contributes Melon in Masala: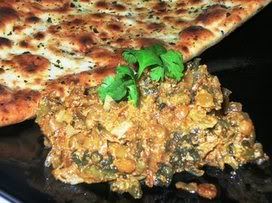 Claire from Cooking is Medicine in Mississippi, makes it a team effort with her friends, turning out roasted vegetables, Salsa Chicken and more delicious goodies:

When I saw this recipe on Farmgirl Fare's site the other day, I was hoping she'd send it in for ARF/5-A-Day. I'll definitely be making this Savory Tomato Pesto Pie very soon:

Finishing off tonight's round-up, newcomer Kaji's Mom from Ohio shares a deliciously hearty Summer Vegetable and Bean Soup – yum!

Chickpea and Rosemary Dip
Recipe courtesy of Rachael Ray
2 cans (15 ounces each) chickpeas, drained
1 small jar (6 ounces) roasted red peppers, drained and chopped (I skipped the chopping – no need since it went into the food processor)
juice of 1/2 lemon
2 cloves garlic, cracked away from skin
4 stems fresh rosemary, leaves stripped from stems
coarse salt and freshly ground black pepper, to taste
2 tablespoons extra-virgin olive oil
Combine chickpeas, roasted red pepper, lemon juice, garlic, rosemary, salt and pepper in food processor. Turn the processor on and stream in extra virgin olive oil. Remove dip and put in a serving bowl and surround with flat breads, grape tomatoes and zucchini.