Nicholas and I ran into the grocery store yesterday to grab a few things, and I noticed avocados were on sale 10/$10. I don't need a better reason than that to snap up a handful of them. Whether they're in a Bacon, Avocado and Tomato Sandwich (something The Husband and I fell in love with on our first vacation before we got married), fresh guacamole, or just sliced and drizzled with extra virgin olive oil, cracked salt and pepper, the possibilities are endless.
I was doing some catch-up with my magazine reading, and spied an Avocado Salad in Martha Stewart's Everyday Food – perfect. I'm drawn to avocado recipes that let them be themselves. Avocados are such a rich, buttery item, they need little adornment. Except for the dressing drizzled on top, this recipe lets avocados shine on their own. I'd definitely repeat it, but would halve the dressing next time as it made way too much.
Enough about what I made … here's the roundup with what everyone else made. Until tomorrow …
A year ago today … a perfect meal.
Stacey from Just Braise kicks us off this week with a little reminiscing about Spain, with her Paella de Pescados y Mariscos con Chorizo (Fish and Shellfish Paella w/ Chorizo):

Food, In the Main heats us up with her very hearty Haricot Beans Curry with Spinach: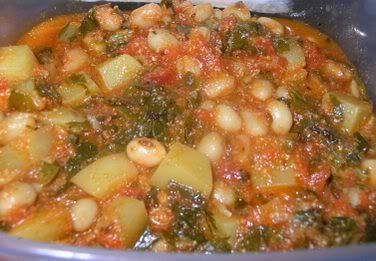 Have tomato overload? Susan from Farmgirl Fare puts hers to use (and keeps her kitchen cool) with her Seven Second Tomato Glut Solution:

The Fat-Free Vegan Kitchen in Mississippi puts a tangy spin on tofu with her South Carolina Golden Mustard Barbecue Sauce:

Paula from The Cookbook Junkie in Pennsylvania has her way with Angie's Dad's Best Cabbage Coleslaw:

Kalyn's Kitchen in Utah tackles one of Nicholas' favorite vegetables with her Chinese Cucumber Salad recipe:

Culinary Adventures joins us for the first time with a gorgeously colorful Tropical Salad:

Claire from Cooking is Medicine does some eggplant research this week with her Eggplant Parmesan:

From My Kitchen to Yours goes the sweet route this week with her Banana Blueberry Muffins:

Kaji's Mom makes some delicious looking Pumpkin Muffins:

What's for Lunch, Honey? in Germany whips up Veal "Vilanese" and a Peas and Lettuce Salad:

Patti from Adventures in Food and Wine in Indiana has a canning project in progress … fresh picante sauce:

Avocado Salad
Recipe courtesy of Everyday Food
Serves 8; Prep time: 20 minutes; Total time: 1 hour 20 minutes
1/2 medium red onion, thinly sliced
2 tablespoons plus 1/4 cup fresh lime juice
2 teaspoons sugar
coarse salt
1 jalapeno chile (seeds and ribs remove for less heat), chopped (I skipped)
1 cup lightly packed cilantro leaves
1/2 cup olive oil
4 avocados (thinly sliced)
In a small bowl, combine onion with 2 tablespoons lime juice, 1/2 teaspoon sugar, and 1/4 teaspoon coarse salt; toss to combine. Let lime-marinated onion sit at room temperature until it softens and brightens in color, about 1 hour (up to 1 day, covered and refrigerated).
Make dressing: In a blender, combine remaining 1/4 cup lime juice, jalapeno, cilantro, and remaining 1 1/2 teaspoons sugar; season generously with salt. Blend until smooth. With the motor running, add oil in a steady stream through the feeder opening until incorporated. Just before serving, slice avocados; arrange on a serving plate. Top with onion; drizzle with dressing.