This has been a crazybusy weekend, but we managed to get a ton of stuff done. Between getting the house ready for sale and leaving for vacation on Friday, our to-do list is a mile long, and I wonder if we'll get it done. I'm sure we will, but it's going to be one heck of a week.
For tonight's dinner, I kept it simple, going with a new recipe that Rachael Ray featured on her show earlier this week, Pasta with Bacon, Tomatoes and Onions. A nice hearty pasta dish that hit the table in under 30 minutes. With bacon as a prominent feature, how can you go wrong? Instead of the pancetta she called for, I used bacon, keeping with my challenge to cook out of my freezer/pantry, in an effort to have less food to pack. I also didn't add olive oil to the pan to cook the bacon in. Bacon has enough grease on its own, it certainly doesn't need oil on top of it.
Alright folks, I am beyond tired; exhausted doesn't even cover it, so that's a wrap for now. On with the dogs.
Until tomorrow…
P.S. There's still a few days to get in your submission for I'll Show You Mine, If You Show Me Yours #5. This time around, the theme is showing us your "go to" dish for entertaining. You don't have to actually make the recipe, but if you do, all the better. Is it a dessert that you serve again and again to rave reviews? A main course? A drool-inducing winner of an appetizer? Post about it and send me the link to be included in the I'll Show You Mine If You Show Me Yours #5 roundup this week.
P.P.S. As we are going to be on vacation next weekend, Stephanie from Dispensing Happiness will be hosting Weekend Dog Blogging next Sunday for me. You can e-mail your permalinks to her at thehappysorceress@gmail.com.
A year ago today … monthly recap.
First up this week, Mr. Woofy from Kitchen Wench makes a new friend:

Willie from Eating for One in Kansas shows his team spirit: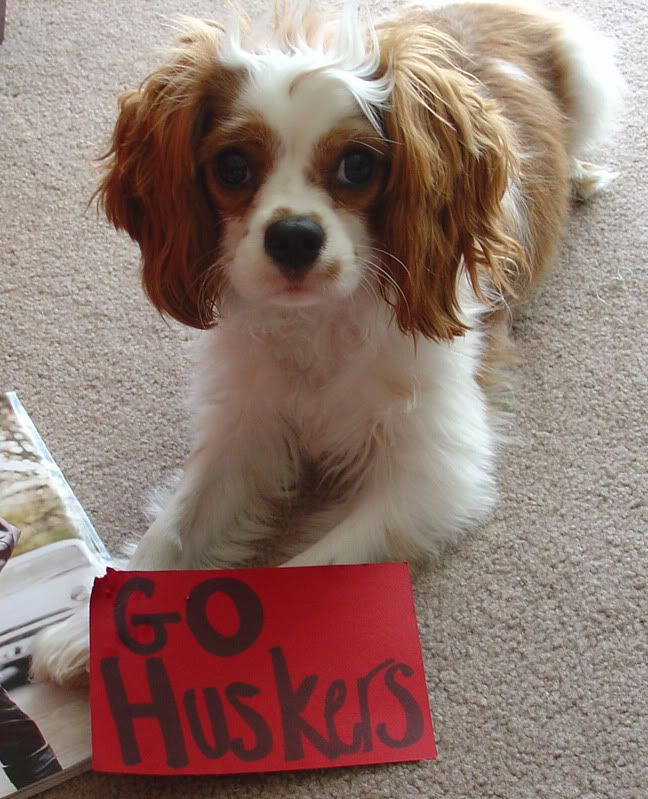 Buddy the Bodyguard from Farmgirl Fare in Missouri pops in:

A very happy Kaji from Transition to Vegan:

Fred the Adventurer checks in from Experimentation of Taste:

Sadie and Diva from Columbus Foodie:

Edward from The Moveable Feast Food Blog waits patiently for a treat, as does his son, Moose:

Neighbor Dog Max drops by Gluten-Free Goddess' place:

A trio of cuteness from Dispensing Happiness, including a very flour-covered Doolin:

And last, but not least, Simba from Up a Creek Without a PatL:

Pasta With Bacon, Onion, Tomato and Bay Leaves
Recipe courtesy of Rachael Ray
pound rigatoni with lines
Salt and freshly ground black pepper
1 tablespoon extra-virgin olive oil (EVOO)
8 slices pancetta, chopped
1 large onion, chopped
1 fresh bay leaf
6 cloves garlic, chopped
1/2 cup chicken stock
1 28-ounce can crushed San Marzano tomatoes
1/2 cup grated Parmigano Reggiano, plus some to pass at the table
1/4 cup flat-leaf parsley leaves, chopped (about a handful)
Place a large pot filled with water over high heat and bring up to a boil. Once boiling, add some salt and the pasta, and cook according to package directions until al dente. Drain and reserve.
While the pasta water is coming up to a boil, heat a large skillet over medium-high heat with 1 turn of the pan of EVOO, about 1 tablespoon. Once hot, add the pancetta and cook until crispy, about 3-4 minutes. Add the onion, bay leaf and garlic, and continue to cook for about 3-4 more minutes. Add the chicken stock and the tomatoes, bring up to a simmer and cook for 5-10 minutes.
Transfer the cooked pasta to a large serving bowl, top with the sauce and the cheese and toss to coat. Serve with some cheese to pass at the table.
Yields 4 servings