Today was filled with uncooperation – is that even a word? I'm going to have to look it up. Nicholas was planning on being Superman; heck, I was planning on Nicholas being Superman; had been for the past month or so. Today when he woke up, he decided he was having none of that. Refused to put on his costume to go to school, didn't want to be in their parade, didn't want any part of any of it. Sigh. And so it goes.
We packed it up in a bag and sent it in to school with him, in case he had a change of heart, but he never did. Even tonight, he had zero interest in trick-or-treating. Not sure where that came from, but I wasn't going to force the issue. He eventually relented, and ended up putting on his fireman raincoat and going as a fireman. Now to see exactly how liberal Costco's return policy is … one unused Superman costume later.
Then there's Eli. Ah, Eli. I had such plans for him, dressing him up as a ghost, holding a pumpkin in his mouth. Cute, right? Well, Eli had other plans and none of it included white sheets or orange pumpkins, that's for sure. Costume issues notwithstanding, I love how the ghost picture came out; timing is everything. Guess it's clear where he stands on the whole dog-as-ghost issue.
The Girlfriend went as another princess this year (Belle), and was in great company. Their school was awash in bright tulle this morning, each one trotting down the parade path in their clear plastic heels, straightening their crowns and skirts.
The Newlywed Neighbors even got in on the action, dressing up as Darth Vader. The visiting kids are always thrilled to see the adults getting dressed up. With our house on the market this year, we didn't decorate the yard with our 6-foot-tall monsters as we usually do, and The Husband didn't dress up. Just not the same … the yard looked so … ordinary. Next year!
A few more Halloween pictures below and then you'll find this week's ARF/5-A-Day roundup. Until tomorrow…
A year ago today … a much easier Halloween.
A friend's dog, Brie. Love the cocked head.
OK, on with the ARF/5-A-Day roundup. The day being what it was, I didn't get a chance to join in today, but I'll have a belated contribution tomorrow.
Pat from Up a Creek Without a PatL kicks us off this week with a great primer on roasting and pureeing butternut squash:

The Cooking Debauchery tries something new with Not So Piggy Pudding, taking inspiration from Paula Deen:

The Chocolate Lady waxes rhapsodic about the color purple and purple vegetables:

Catherine from Albion Cooks makes a very Fall-inspired Pumpkin Soup:

Pumpkin makes its next appearance by way of pudding from A Transition to Vegan:

Heather from Eating for One in Kansas gets cozy with Beef and Vegetable Potpie: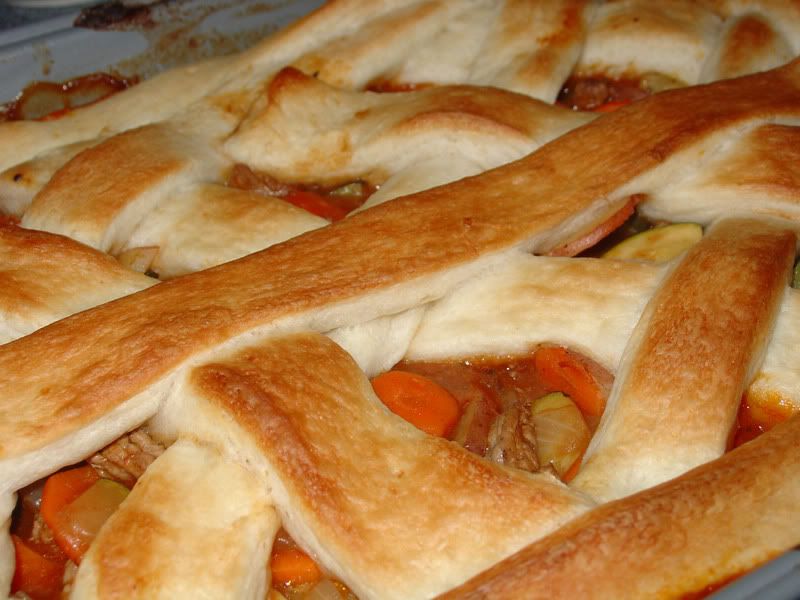 The Cook's Hideout from New Jersey mixes it up with Tempeh Jambalaya, jam-packed with vegetable and antioxidants:

And last, but not least, Claire from Cooking is Medicine bakes up a batch of Pumpkin Blueberry Muffins: