OK, the jury is still out on quite possibly the world's greatest new invention. My plan was simple. Nicholas, my stepdaughter and I were going to make Snowman Cupcakes for him to bring into school tomorrow, using the markers to make the eyes, mouth and orange carrot nose. Simple, right? Well, suffice it to say that these markers don't work well on cupcake frosting, although they claim to. Pathetic actually. I was quite disappointed. That's not to say they don't have their place, but it certainly isn't for cupcakes. So the kids ended up going to town with the sprinkles and purple glitter. Hey, it all tastes the same going down anyway, right?
Tonight's dinner was delish. Two new recipes, with one definitely going into rotation. It's been awhile since we made hamburgers, so that was the plan tonight. I ended up going with Beef Wellington Burgers, complete with sauteed mushrooms, pate, Dijon mustard and cornichons as toppings. Simply divine and oh so packed with flavor. Now knowing how picky my crew is with burger toppings, I kept all the intended pieces separate, so everyone could be as brave as they could manage. The Husband skipped all and went with ketchup. Coward. Nicholas opted for a pickle and cheese sandwich with a smear of applesauce. Blech. My stepdaughter was very adventurous and after I described pate as a "ham spread" (shhhh!), she discovered something new she likes. She used all the toppings except for the mushrooms. Good for her.
As a side, I went with a Cheesy Scalloped Potatoes recipe from Southern Living magazine. It was good, not a wow, and probably won't get repeated. Definitely edible and tasty, but there are probably better ones out there for us ti discover. Well, me and my stepdaughter anyway, so the boys won't eat potatoes this way.
OK, without further ado, I'll leave you with the pups for tonight. Until tomorrow…
A year ago today … my Top 10 Favorite Foods.
P.S. Don't forget to place your order for the 2007 Eli/Sweetnicks Desktop Calendars! Just $5, includes shipping, for the perfect stocking stuffer for your favorite animal lover. A portion of the proceeds benefits animal rescue. You can see here for a sample of one of the pages. Drop me a line at sweetnicksplace@aol.com to place your order.P.P.S. If you'd like to be placed on my e-mail list to keep up with what cookbooks I'm selling, just drop me a line at sweetnicksplace@aol.com.
First up tonight is Simba from Up a Creek Without a PatL, who is enjoying some fresh fallen snow. Take a peek at this cutie too!


The pups at Sugar Creek Farm join us for the first time today. Adorable dogs – love the Pyrenees!

Willie from Eating for One in Kansas is back!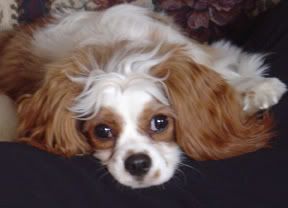 The heartbreaking tale of these two pups can be found on Dispensing Happiness' porch – poor things.


It's Multy from Peanut Butter Etouffee – poor baby is under the weather:


Love this picture of Lucky Buddy Bear from Farmgirl Fare – adorable!

Beef Wellington Burgers
Recipe Courtesy of Every Day with Rachael Ray
Makes 4 burgers
1 1/2 pounds ground sirloin
1 shallot, finely chopped
2 to 3 tablespoons finely chopped fresh parsley
1 tablespoon Worcestershire sauce (eyeball it)
Salt and freshly ground pepper
Extra-virgin olive oil (EVOO), for drizzling
3 tablespoons butter
1/2 pound cremini or white mushrooms, sliced
1/4 cup dry sherry
2 tablespoons Dijon mustard
4 eggy rolls, split and toasted, or 8 thick slices challah bread, toasted
1 small bunch watercress, chopped
1/2 cup chopped cornichons or baby gherkin pickles
1/2 pound truffle mousse pate
In a medium bowl, mix together the meat, shallot, parsley and Worcestershire sauce; season with salt and pepper. Score the meat into 4 equal portions and then form into large patties. Heat a drizzle of EVOO in a large nonstick skillet over medium-high heat. When the pan is screaming hot, add the patties and cook for 4 minutes on each side for medium rare, 6 minutes on each side for medium well.
Meanwhile, place a medium skillet over medium heat. Melt 2 tablespoons butter in a drizzle of EVOO, add the mushrooms and cook until tender, about 6 minutes. Pour in the sherry and let it cook off, about 30 seconds. Season the mushrooms with salt and pepper and remove from the heat.
Stir together the mustard and remaining 1 tablespoon butter. Spread the Dijon butter liberally on the bun bottoms. Top with the watercress, a burger patty, a pile of mushrooms and a few chopped cornichons. Spread the mousse pate on the bun tops and set them into place.
Cheesy Scalloped Potatoes
From Southern Living magazine
Serves 8
1/2 cup mayonnaise
2 tablespoons all-purpose flour
1/2 teaspoon salt
1/8 teaspoon pepper
1 1/2 cups milk
1 cup shredded sharp Cheddar cheese
1 teaspoon chopped fresh parsley
1 teaspoon chopped fresh chives
1 teaspoon chopped fresh thyme
4 cups (3 lb.) thinly sliced baking potatoes (about 4 large)
2 tablespoons grated Parmesan cheese
Combine 1/2 cup mayonnaise and next 3 ingredients in a saucepan. Gradually add milk, and cook, stirring constantly, over medium-low heat 8 to 10 minutes or until thickened. Remove from heat. Add Cheddar cheese and next 3 ingredients, stirring until cheese melts and is well blended.
Place half of potato slices evenly in a lightly greased 11- x 7-inch baking dish; pour half of cheese mixture over potatoes. Repeat layers with remaining half of potato slices and cheese mixture. Sprinkle evenly with Parmesan cheese.
Bake, covered, at 350 for 1 hour. Uncover and bake 30 more minutes or until potatoes are golden brown and fork tender.