Last night, we had our regular dinner with The Neighbors, but this time they hosted. In addition to making the very-loved Cheeseburger Soup and Bleu Cheese Chips, collectively we turned out SIX new recipes, and they did four of them on their own! I know you all are as proud of them as I am. For their new recipes, they turned to Sandra Lee, making a Stuffed Pizza Ring, Crab Salad Cucumber Bites, Banana Smores and Bananas Foster. I took care of the kids stuff, making a Crunchy Onion Chicken for them, and Candy Sushi for dssert. Now for the reviews:
Crab Salad Cucumber Bites – good, but the crab could barely be tasted, and when you're spending a small fortune on a can of real crab, you really want the crab to shine through. If we make them again, I'd cut back on the other ingredients, so the crab is stronger.
Stuffed Pizza Ring – Rachael Ray makes a similar recipe to this. Tasty and easy to make. The Neighbor Husband inadvertently omitted three ingredients (cheese, seasoning, black olives), so he very nearly made his own recipe. ;)
Bananas Foster – The Neighbor Wife and I didn't taste them, but given the speed at which The Husbands demolished them, it's a fair bet that they were quite tasty.
Banana Smores – Delish. The kids shared them with us and they were easy to make and tasty. Slit open a banana, but leave it in its peel. Stuff it with marshmallows, chocolate chips and graham cracker crumbs. Wrap in foil and place in oven until everything is melty.
Candy Sushi – Nicholas loved them, super simple to make and a nice fun way for them to end their meal. Recipe is here.
Crunchy Onion Chicken – took literally 5 minutes to make, and Nicholas loved his; tender juicy chicken and you probably have the ingredients on hand, which is always a bonus. Recipe can be found here.
Alright, enough food for tonight. On with the dogs. Until tomorrow…
A year ago today… pure miscellany.
Stephanie from Dispensing Happiness is up first with two new additions to the roost, bringing the total up to five (check out her website for more pics).

The trio from Peanut Butter Etouffee drop by for a visit:

Dale, from One Hot Stove in Missouri enjoys the life of leisure:

Thankfully, Simba from Up a Creek Without a PatL is slowly on the mend:

There are some very happy pups at Rachel's Bite tonight, enjoying some homemade Bacon-Cheese-Barley Burgers. Go check out her site for the pictures, unfortunately they're not working here.
Well, if Kita and Lili from Sugar Mountain Farm in Vermont has snow, maybe there's hope for us Jerseyans yet: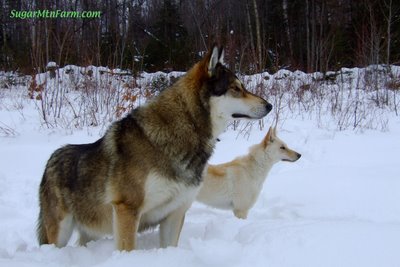 Ziggy from the Soul Fusion Kitchen in Los Angeles pops in: