Thanks for all the well wishes … I've just been hanging on to this nagging cough and cold for the fast few weeks, and it's doing a terrible number on my energy level lately. Enough of that.
Last night, we celebrated The Neighbor Wife's birthday, the grand old age of 34. I vacillated between going through with the menu I had planned, especially since I had already ordered the groceries, to bagging it all and calling for take-out. I ended up cooking, trying out 4 new recipes, three of which will go into regular rotation.
Hot Crab Dip – canned crab was on sale last week, and I picked up a can, not having planned out what I would do with it. I posted a message on the Cooking Light Bulletin Board, and in a short amount of time, I had a great assortment of recipes to choose from, this crab dip being one of them. It was a snap to pull together, and was tasty, just not a wow for us.
Crab Quiche – another recipe from the Cooking Light Bulletin Board and it could not be simpler to make. I loved it, as did The Neighbor Wife. No one else would touch it, go figure, their loss.
Steak and Boursin Sandwiches – this one comes from the February issue of Gourmet magazine which, surprisingly enough, I've already read. Sometimes I manage to read a recent issue of a magazine, especially now that I'm catching up on my backlog (the light at the end of the tunnel is there!). Over the past few months, I seem to be getting less and less recipes from Gourmet, but I usually find something in the Gourmet Every Day section, which focuses on good food fast. That's where this recipe came from. The original recipe called for romaine lettuce, and I ended up using caramelized onions instead. Something about warm or hot lettuce has never appealed to me. The sandwiches were quite tasty and came together quickly, although next time, we'd toast the bread instead.
Cafe Mocha Tart – the one comes from a recent issue of Family Circle magazine, and like all the other recipes tonight, came together lightning fast. Delicious, decadent and quick to make, this one will definitely be repeated again and again. (Recipe will be up tomorrow, the rest are below)
All in all, a good meal with good company. During our weekly dinners, we've been doing good at catching up on our movies lately. Last night, we tried to watch Lake House with Sandra Bullock and Keanu Reeves, and as much as we like the cast, we couldn't get into it. Instead we ended up watching the newest version of Yours, Mine, and Ours with Rene Russo and Dennis Quaid. It was cute, but Lucille Ball's version still the best.
Alright, enough from me, on with the dogs. Until tomorrow…
A year ago today… another night off.
I had to give a second look to find the dog, but look closely, Kita is there, guarding the pigs at Sugar Mountain Farm in Vermont – wish we had that snow!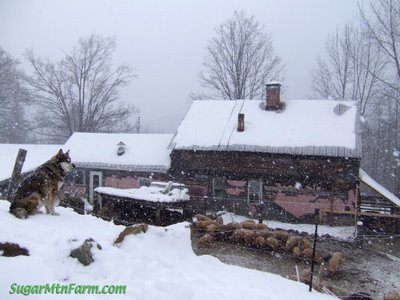 Ziggy checks in from Soul Fusion Kitchen in Los Angeles:

Here are three of the five pups from the Dispensing Happiness household in Tennessee. Check out Stephanie's site to see the other two:

Sophie from You Gonna Eat All That? begs for sweet belly rubs:

Dale from One Hot Stove enjoys a romp in the Missouri snow:

The perfectly poised trio from RobWonton are back, looking as handsome as ever:

And lastly, a very happy Simba from Up a Creek Without a PatL finishes off the roundup:

Barbara Bush's Crab or Clam Dip
Cooking Light Bulletin Board (slknight)
1 (6-1/2 ounce) can crabmeat or minced clams – I used a 6 ounce package of fresh crabmeat
1 (8 ounce) package cream cheese, room temperature
1 tbl Worcestershire sauce
1 tsp hot sauce
2 tbl chopped chives (optional)
2 tsp dry sherry (optional)
Combine all ingredients and mix well. Transfer to a 1 quart casserole dish. Bake in a 350 degree oven for 30 minutes or until bubbly. Serve with corn chips or crackers.
CRAB QUICHE
Cooking Light Bulletin Board (luvItalian)
1/2 cup mayo
2 beaten eggs
12 oz shredded swiss cheese
6 oz canned real crab, drained
2 Tbs. flour
1/2 cup whole milk
1/3 cup chopped onion
Combine mayo, flour, eggs & milk. Add crab, cheese & onion. Pour into prepared shell and bake 40-45 minutes at 350 degrees.
STEAK AND BOURSIN SANDWICHES
Gourmet, February 2007
You may never go back to roast beef sandwiches after trying the bold flavor of steak with creamy, garlicky Boursin.
1 (1-lb) piece flank steak
3/4 teaspoon salt
1/2 teaspoon black pepper
1 (24-inch-long) baguette or 4 (6-inch-long) ciabatta rolls
1 (5-oz) package Boursin cheese (herb or pepper)
2 tablespoons olive oil
2 hearts of romaine, halved lengthwise
Preheat broiler. Pat steak dry and sprinkle all over with salt and pepper. Put on rack of a broiler pan and broil 2 to 3 inches from heat, turning over once, 6 to 8 minutes total for medium-rare. Transfer to a cutting board and let stand 5 minutes.
While steak broils, cut baguette into 4 sections, then halve each horizontally. Spread Boursin over bottom halves of bread.
While steak stands, heat 1 tablespoon oil in a 12-inch heavy skillet over moderately high heat until hot but not smoking, then sauté romaine in 2 batches, turning over once, until browned in spots and slightly wilted, about 2 minutes per batch. Add remaining tablespoon oil to skillet between batches. Transfer as sautéed to cutting board with meat. Cut off and discard core end of romaine, then lay romaine on top of Boursin.
Cut steak across the grain into thin slices and divide among sandwiches.
Makes 4 servings.