When I picked up the fish for the Flounder Oreganata that I made last week, I grabbed a can of crab, knowing that I had a recipe in my burgeoning "to try" pile that called for it. This recipe comes from the Cooking Light bulletin board (thanks, LLR!) and was in a response to a post I had put up, asking what to do with leftover crab. Now since I have half a can of crab leftover from this recipe, I just may have to revisit that post.
The recipe calls tomatoes, so fits in perfectly with tonight's ARF/5-A-Day roundup. The dish was done in about 20 minutes, and truth be told, I didn't have high hopes when it was done. It didn't look saucy enough, but I'm glad I gave it a chance. Although it didn't look like there was enough sauce, it ended up being just right (with a minor modification or two). Light, quick to make and so delicious, I ended up having two helpings. The recipe said it serves 4, but that is definitely off. I packed up a large portion for the Newlywed Neighbors, and still have plenty leftover – it can easily serve six.
Alright, enough about our dinner, on with the roundup. Until tomorrow…
A year ago today … mmm, a delicious pasta recipe.
Newcomer Veggie Love is up first with a delicious melty Brie sandwich with spinach:

Charise from More Bread and Cheese, Please is back this week, with our second taste of spinach with her Penne with Bacon, Spinach and Buttery Crumb Topping. Although it wasn't a very enthusiastic thumbs up, it certainly sounds good!

Quinoa comes from Cook. Craft. Enjoy. with a Weight Watchers recipe, Toasted Quinoa Salad with Lemon and Herbs:

Mmm, I love collard greens, and this submission from Gluten Free by the Bay sure sounds like a great way to go: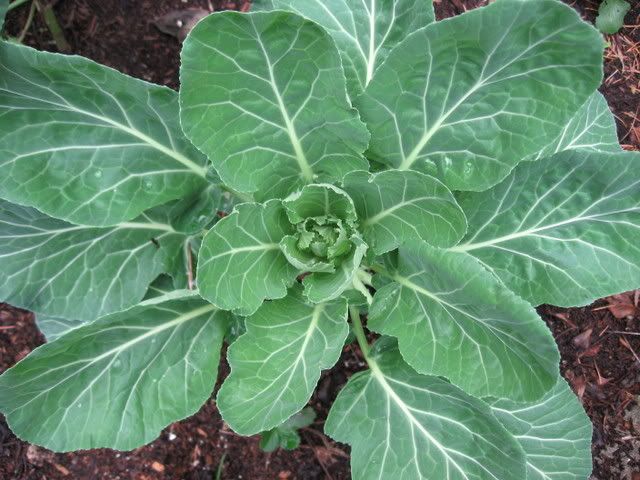 The Cookbook Junkie is back this week, with a new take on banana bread:

Can you believe I have never made a baked potato? Seems kind of silly since I do love them. Claire from Cooking is Medicine has inspired me:

Sugar Delirium finishes us off this week with a fresh batch of Cranberry Harvest Muffins from none other than Ina Garten:

Angel Hair Pasta With Crab
1 pound angel hair pasta
2 tablespoons butter (I used three)
1/4 cup olive oil
1/2 cup sliced green onions (I used one medium onion)
1 clove garlic, minced
2 medium tomatoes, peeled, seeded and diced (I used one can of diced, drained)
1/4 cup dry white wine
1 tablespoon lemon juice
1/2 pound cooked flaked crab meat
1/4 cup chopped parsley (I used dried, and about 1-1/2 tablespoons)
Salt and pepper to taste
Have salted water boiling for pasta then start sauce. Cook onion, garlic, tomatoes in butter and oil until soft. Add wine, simmer 2 minutes. Add lemon and Crab turn to warm. Cook pasta per package. Drain, toss with sauce. Garnish with parsley. Serve with grated Parmesan on the side.
Notes: I drizzled the top with just a smidge of extra virgin olive oil and then mixed.