Sorry for not getting the roundup up last night. I have had this terrible cold and hacking cough for the better part of three weeks now, and it's wreaking havoc on my asthma to boot. Another trip to the doctor's this morning netted me 3 more medications to try and kick it once and for all.
We had our Super Bowl Bar Food Feast at The Neighbors last night, and it featured one of my favorite kinds of food … finger food! They made potato skins, beef taquitos, buffalo wings, mini crescent dogs (thanks, Val!), and the muffaletta roll that Claire suggested when we put a call out for recipes. The party requisites of chips, dip and salsa were also present. I brought guacamole, Smoked Salmon Dip with crackers, Shrimp Cocktail, Won Ton Cups, Cheese Bread Sticks and, of course, Super Bowl cupcakes and Chocolate Lava Cakes for dessert. Everything was delicious, and we were beyond well fed. Mmmm, I feel like I forgot something – did I, guys? Tomorrow – the recipe for the Cheese Bread Sticks. Until then, the roundup of pups.
A year ago today … we were in Key West. This week, the "a year ago today" links are going to be hard, reliving all those vacation memories!
First up, the very well trained trio from Rob Wonton:

The pups from Sugar Mountain Farm enjoy the snow: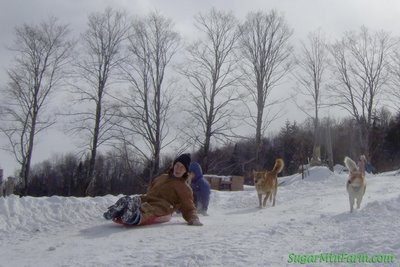 Bandit joins us for the first time from Never Trust a Culinary Student. Unfortunately, all his team spirit just wasn't enough:

Ahh, I know this look well. Eli has the very same "maybe if I don't move, she won't notice me on the couch" glare. It's Dale from One Hot Stove in Missouri:

How can you not love that sleepy face? It's Sweet Simba from Up a Creek Without a PatL:

There's some good eatin' going on for the pup at Rachel's Bite:


Print it!