So The Neighbor Wife calls this afternoon and mentions that they're getting takeout from Outback Restaurant for dinner tonight. Mmmm, Outback. Haven't had their food in years. All the sudden, I was less inspired to make dinner and plans of take-out quickly came to fruition. We had a jam-packed day of doing stuff around the house today, and take-out seemed like the perfect answer.
The first time I went to Outback was some eleven years ago. The Husband and I were newly engaged at the time, and were out late one night lining up tuxedos for our wedding. We spied an Outback and grabbed a quick bite to eat. Since then, we've only been a handful of times, despite the fact that there a few locations that are relatively close to us. I am always impressed by the training the restaurants' wait staff receives. They don't see customers' tables as "yours" and "mine." Rather, it is very much a team effort, and if a waiter passes by your table and sees you need something, they're happy to help, irregardless if it's their table or not. More restaurants should adopt this philosophy – it would surely make for happier customers. And when waits at Outback can sometimes be up to 2 hours long, their efforts certainly seem appreciated by their loyal customers.
Since we hadn't had their food in so long, I asked The Neighbor Wife for recommendations. She instantly mentioned their Cyclone Pasta, saying that I need to come up with a clone of that. After eating it tonight, I can see why. Penne pasta with sun-dried tomatoes, tasso ham, chicken and mushrooms, it has a light cream sauce. If I didn't know better, I'd swear the sauce tasted slightly like lobster, but given I'm still battling a terrible head cold and know there's no lobster in the dish, I'll chalk it up to being slightly impaired. I just did a quick search and found a few copycat recipes for Outback's Cyclone Pasta, so we just may have to give this one a try next weekend with our Neighbors dinner. The Husband's favorite appetizer is still the Awesome Blossom, so you know we had to get that. Like quite a few chain restaurants these days, Outback offers curbside pick-up for take-out orders. It couldn't be any easier than if they had a drive-thru. When you call in your order, they ask what type of car you have, and come right out with your food when you pull up into an assigned space. Gotta love that.
On with the pups. Want to participate in next weeks' Weekend Dog Blogging roundup? You can find out the deets right here. Until tomorrow…
Buddy from Rob Wonton kicks us off this week, enjoying some California sunshine. Lucky dog!

The pups at Sugar Mountain Farm get down to business earning their keep: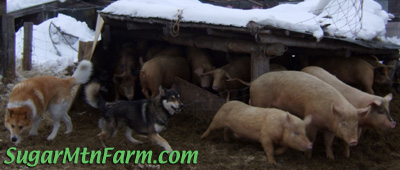 A sleepy looking Charlie from Rah Cha Chow is up next:

Simba from Up a Creek Without a PatL takes a load off and spends a lazy day just chillin':

And last, from our house, it's my parents' dog, Beauregard, who we're dogsitting for this week. When I saw him fast asleep on our bed this afternoon, I couldn't resist taking a few pictures. I would think sleeping with his nose bent like that would be terribly uncomfortable, but it must have been ok, because he didn't move for quite awhile.