I was attempting to get the short and sweet ARF/5-A-Day roundup up late last night, but the laptop was achingly slow and I just didn't have the wherewithal to head downstairs to the office computer.  So here we are with an early morning edition instead.
The Chocolate Lady is back this week, this time with New Moon Radishes.  Perfect timing for me.  I bought a bunch of gorgeous radishes at the farmer's market this past weekend, and now I know just what to do with them.  They'll go perfectly on the baguette I got from Whole Foods yesterday.

Our favorite med student is up next, sharing a simple salad that is perfect to tote along to work for lunch:

The Modern Apron succumbs to the alluring pea and leaves her pea-hating days behind, at least long enough to enjoy Cream Peas with Pancetta:

Sarah from What Smells So Good whips up the gorgeous (and local!) Ponzu Noodle Salad:

Scribbles and Bites has a party in a bowl with her trio of healthy salads: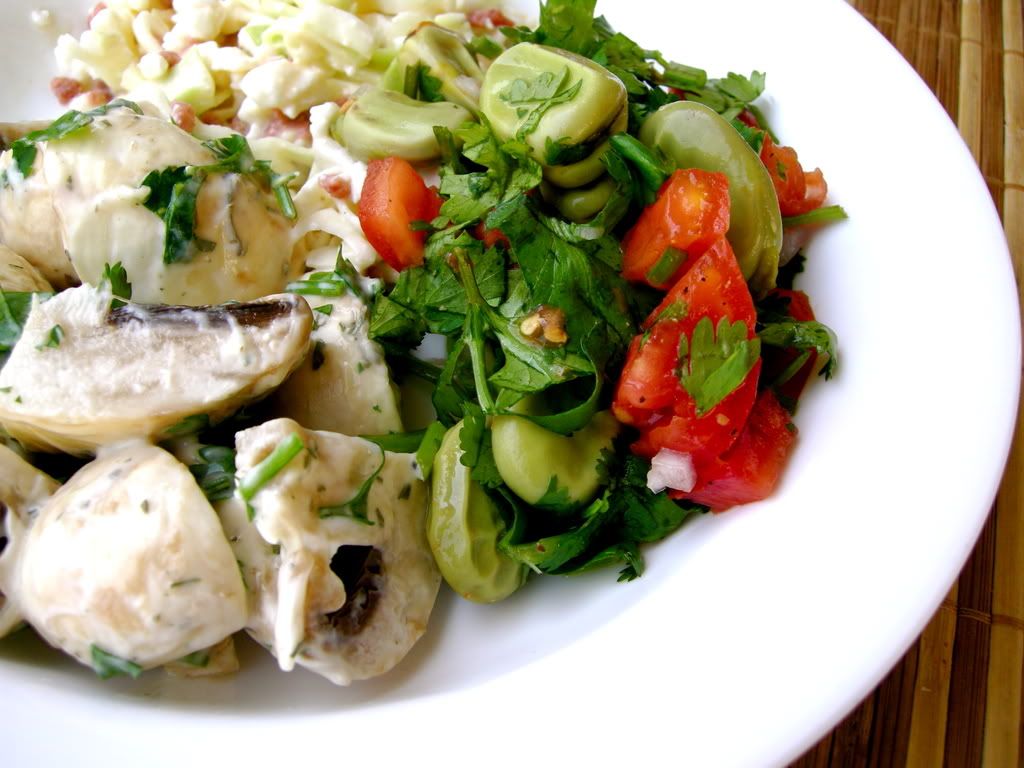 Blog Appetit makes a California heat wave a little bit better with her Cold Asian Noodles with Lots of Shredded Veggies and a Peanut-Tofu Sauce:

As for me?  On Sunday night, the boys were out, so I took advantage of a nearly empty house and made Trevor's Ragu Bolognese.  It takes just a few minutes to assemble, and then quietly does its thing on the stovetop for an hour and a half.  This time, instead of 2 cups of white wine, I used one cup of white and 1 cup of a Spanish red I had on hand, and it was still just as good.  I nixed the celery altogether (just have a thing about hot celery) and used shredded carrots instead of diced (had some leftover).  Seriously, if you haven't tried this recipe yet, you must.  The sauce is so good it's hard to stop eating it straight from the pot.  In fact, when I delivered a small container of it to one of our neighbors, I handed over a spoon so she could try it right away while it was still warm.  Swoon-worthy, I tell you.  Swoon-worthy.  With the carrots and tomato paste, it's the perfect addition for tonight's round-up.  Yum-O.
Ragu Bolognese
Recipe courtesy of Trevor
5 tablespoons extra-virgin olive oil
3 tablespoons butter
1 large carrot, finely diced (used shredded)
1 medium onion, diced
2 ribs celery, diced (skipped)
1 clove garlic, sliced
½ pound ground sirloin
½ pound ground pork
6 oz. pancetta (I used 8 oz)
1 tube of tomato paste (I used one small can)
1-1/2 cup milk
2 cups dry white wine (sauvignion or fume blanc) (I used one cup white, 1 cup red)
Kosher salt and ground black pepper
Fresh thyme
Parmigiano-Reggiano, for grating
In a large, heavy-bottomed saucepan, heat the olive oil and butter over medium heat. Add the onions, celery, garlic and carrots and sweat over medium heat until the vegetables are translucent and soft but not browned (10-15 minutes). Add the beef, pork and pancetta and stir into the vegetables. Add it over high heat, stirring to keep the meat from sticking together until browned. Add the tomato paste, milk, and wine and simmer over medium-low heat for 1-1 ½ hours, stirring occasionally. Season with thyme, salt and pepper to taste.